2022-23 NBA: The Biggest Surprises and Disappointments So Far
Biggest Surprises
Portland Trail Blazers
Going into this season the Blazers looked to be a mediocre team at best with the only true all-star player on the team being Damian Lillard. But that isn't the case today as they are sitting at 10-6 and at the top of the western conference. The addition of Jerami Grant has been extremely impactful as he's putting up 21.3 points per game and has taken over games throughout the season. Additionally, the role players like forward Josh Hart have stepped up tremendously with them elevating the ceiling of this team to a whole new level. The team also still has young pieces like guard Anfernee Simons and rookie Shaedon Sharpe who can improve throughout this season and the future. Additionally, the teams' under-the-radar signing of defensive-minded guard Gary Payton II has still yet to play and can add even more help to the great depth Portland already has. So, though this team isn't extremely flashy they have solid all-around talent and if they keep playing at the level they are at they could be a dark horse for a deep playoff run.
New Orleans Pelicans
The Pelicans somehow went very under the radar going into this season even with the great overall roster. Guard CJ Mccollum has looked great at the start of his first full season as a Pelican and is putting up 19 points 5 rebounds and 6 assists per game. This addition added much-needed help for all-star forwards Brandon Ingram and Zion Williamson and the team looks much better as a result. But the success isn't just with the starters as Williamson has missed time but because of the depth of the Pelicans, they have taken down solid teams like the Grizzlies and Bulls even in Willamson's absence. This is a far cry from past seasons where if Zion was absent they weren't going to be very competitive. This team as a whole seems poised to make a deep playoff run and if they play to their fullest potential they could be a team to look out for to make the conference finals.
Utah Jazz
The Jazz have no reason to be this good but they somehow found a way to do it. This season seemed to be one where the team would be in the running for the top 2023 draft prospect Victor Wembanyama. But the players had other plans in mind this season. The team is off to a 10-6 start and is exceeding almost every expectation anyone had for them. The team is filled with young pieces and solid role players but no true all-star coming into the season. Forward Lauri Markkannen who was involved in the trade for former Jazz guard Donovan Mitchell has revived his young career and is seemingly on pace to have a shot at an all-star spot. He is putting up 21 points per game to go along with 8 rebounds and 2 assists. The team as a whole is also playing unselfish basketball as everyone is playing their roles extremely well. This hot start is going to be something to look out for down the stretch to see if it stands as there hasn't really been a team with no true star to succeed deep into the season.
Biggest Disappointments
Brooklyn Nets
What was supposed to be a turnaround season for the Nets after getting knocked out in the first round last year has instead turned into a massive mess. The mess The Nets are in started in the offseason when superstar Kevin Durant showed displeasure with the team and requested a trade. Though he would later take back his request in the offseason this was sending a message to the team that they need to improve this season. But that improvement has yet to be seen as they sit at 8-9 and haven't looked like a championship team at all. Forward Ben Simmons who was involved in the James Harden trade last season is playing his first minutes with the team and looks to be the same player people saw in Philadelphia as he still refuses to shoot anywhere past the paint and hinders the offense at some points. He also isn't living up to his standards with him putting up 7.9 points 6.8 rebounds and 5.7 assists per game. These stats aren't terrible but for a player of Simmons' caliber and the fact that he is the return for star James Harden, it is less than desirable for the team. But this can also be a case of rust for Simmons since hasn't played NBA basketball since June of 2021 due to a trade holdout with the 76ers and injuries with the Nets. Kyrie Irving has also been in hot water for him posting and promoting a movie on social media that had anti-semitic views in it. This post would be bad enough to where the team felt the need to suspend him until they felt he learned from his wrongs and understood the Jewish culture more. Irving's suspension is now over and suited up to play in Memphis against the Grizzlies on November 20. This situation is still terrible for the team though because he is supposed to be the number two option but with him missing so much time for things he can control they can't consistently win games. So unless Irving stays clear of any controversy and Ben Simmons can get back to his previous all-star form this team doesn't seem like they'll make much noise this season.
Los Angeles Lakers
The mess of a season for the Lakers last season has spread into this one as they are off to a 5-10 start and seemingly have nowhere to improve. Guard Russell Westbrook has been an overall disappointment in LA and this season is no different as he is putting up 15.4 points 5.4 rebounds and 7.7 assists. These stats have improved drastically from the start of the year and since moving to the bench has seen massive improvements. The rest of the team can't say that though as star forward Anthony Davis can never seem to find consistency in his aggressiveness as some nights he'll look like an MVP candidate and others he'll just look average. Additionally, Lebron James has missed time this year with a left adductor strain which shows that father time is finally starting to catch up with the soon to be 38 year old. The rest of the role players on the team also are not providing much to the offense or defense outside of second-year guard Austin Reaves who has been playing above average. But with the dire trade asset situation the Lakers are in right now due to past trades and signings, there seems to be little improvement available, and if they want this season to not be a failure the players already on the roster need to step up tremendously.
Minnesota Timberwolves
Minnesota was supposed to go all in this season by trading for three-time Defensive Player Of the Year center Rudy Gobert. Gobert is known to be an all-time great paint defender but outside of that his skills greatly fall off most notably on offense and perimeter defense. And the Wolves are learning that the hard way as his weaknesses are hindering the team's success by affecting how the rest of the players are forced to play. This is most seen in star Karl Anthony-Towns who had to switch his position from Center (C) to Power Forward (PF) to fit with Rudy Gobert. On offense, this works because of Town's ability to stretch the floor at an amazing level but on defense, it is less than desirable. Towns is a bad perimeter defender and now being at the PF spot is forced to have to guard the perimeter almost every possession. This leads to the other team getting good looks from 3 as Towns and Gobert are not skilled enough in that area to shut them down. Gobert isn't the only issue plaguing this season with the Wolves as former all-star guard D'Angelo Russell has done nothing to help this team succeed. This season he's putting up 14.5 points 6.2 assists and shooting just 31.6% from behind the arc. This type of play from Russell is hurting the team immensely as an inconsistent shooter and a slightly above-average playmaker for a PG isn't good enough for a team that wants to make a playoff run. So, if the Timberwolves want to make this season not look like a failure they need to find a way to fit with Rudy Gobert, and D'Angelo Russell needs to get back to his all-star form quickly.
Leave a Comment
About the Contributor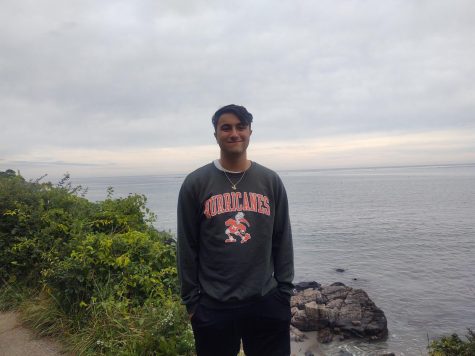 Brendan Granata, Staff Writer
Brendan is a senior here at West Morris Central and is his second and final year writing for The Paw. He has a very strong interest in all things sports...