Devils Historic Win Streak Comes To An End
The New Jersey Devils win streak comes to an end at 13 as a result of a 2-1 loss to the Toronto Maple Leafs. Some say it is even a controversial loss based on the several Devil goals that were called back by referees. 
This historic win streak is now tied for the 5th longest in NHL history and tied for the longest in franchise history. This run was led by key players like Jack Hughes, Jesper Bratt, and Nico Hischier, not to mention Vitek Vanecek as the new goaltender as well. 
Jack Hughes leads the team with 19 points through 17 games. Bratt is not too far behind with 22 points through 17 games. Not to mention Vitek Vanecek has been impressive as a goaltender. So with so many things going right, what went wrong?
The Devils faced the Maple Leafs on November 23, 2022. Maple Leafs scored both of their goals in the first period and the Devils tried to make a comeback the rest of the game. In short throughout the game the Devils had a total of three goals called back by the referees, Two  of which came from goaltender interference calls.  The other was scored as a result of a kicking motion meaning no goal. The home fans at Prudential Center, NJ, did not like these calls, especially the third. When their third goal was overturned fans threw garbage and beverages onto the ice to display their anger. This ended up causing a delay of game until the rowdy crowd could be calmed. 
After this game, the Devils players kept their composure and did not blame the referees. "Tough luck for us. Tough bounces. If [the streak] was going to end, it was going to end like that. A complete hurricane" Devils player Erik Haula says to ESPN. They ultimately fell short of the record set by the 1992-93 Pittsburgh Penguins at 17 wins. One question remains about the Devils success, are they really contenders this year, or just off to a hot start?
Leave a Comment
About the Contributor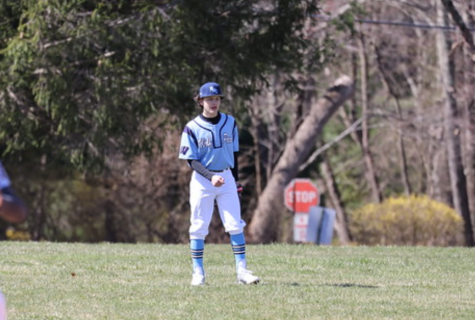 Tyler Gauker, Staff Writer
Tyler is a sophomore at West Morris Central High School. This is his first year writing for The Paw. He plays baseball for the school, is a hockey fan,...