WMC Host Our Third College Fair of the Year
Hang on for a minute...we're trying to find some more stories you might like.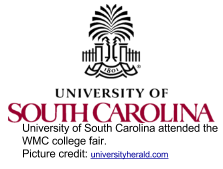 WMC held its third college fair of the year. Colleges from across the nation were there for the students to understand the variety of schools to choose. Bigger schools like University of South Carolina and University of Delaware attended as well as smaller schools like Green Mountain College and College of Mount Saint Vincent. Students were allowed to visit each college stand where college representatives provided brochures, pamphlets and other college information.
Mr. Rossi, teacher at WMC stated,
"I believe the college fair gives students the opportunity to expose themselves to a diverse amount of options when it comes to college selection. I think that the teachers and administration that helped set it up, go out of their way to make sure we get quality universities, colleges and other types of schools in here for students to look at."
The college fair was open to every student, from freshman to seniors who are interested in furthering their education. This year there were over 35 colleges from across the country at the fair which was held in the cafeteria.
Mrs. Buchanan is the lead advisor in charge of all the fairs she said
" Think of it as shopping , you can window shop or invest in what you're buying".
Her biggest tip to all students attending is to be ready to ask questions. The representatives from the collages are Admission counselors so show interest by asking question. Being prepared to have a conversation is a way to get your foot in the door and leave an impression on someone who could be potentially reviewing your application.
This march 2 the reactants of a spring college fair will be held. This newer fair is more for the junior class to get there feet wet.
Later this year in addition to the 4 more formal fairs the ammuni fair will be held with returning WMC graduates currently attending the  universities they're representing. This fair is overall a more casual experience that offers first hand advice to the seniors.
Overall the colleges fairs are most helpful to the upper classmen but are open to all students looking to apply to a university.

Hang on for a minute...we're trying to find some more stories you might like.