West Morris Girl's Cross Country Team Advances to the Group 3 Championships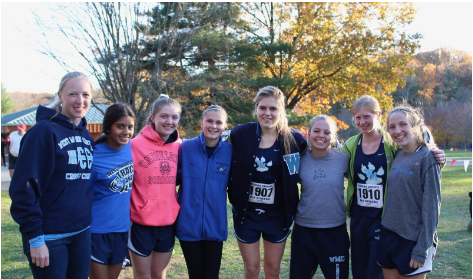 Hang on for a minute...we're trying to find some more stories you might like.
After an aggressive run at Sectionals at Garrett Mountain, the varsity girls cross country team came in fourth place out of 17 teams and advanced to the Group 3 Championships!  Their race was on Saturday, November 12 at Holmdel Park.  
"We definitely did not expect to make it to this meet…I thought I had already raced my last race!" says runner Suzi Faulkner.  
The rest of the team agrees…but not so much Coach Megan Sellers: "I knew it'd be a stretch, but I also knew we could do it if we worked hard enough.  We were ranked seventh at sectionals, so we would have to really work together if we wanted to make the top five.  It was going to be hard, but it wasn't completely out of our reach."
"It's really cool being back on my old turf," says the Coach.  This is her first season as a West Morris coach, taking the place of her brother, Jay Herrigel.  Her experience being a full-time personal trainer and even a former cross country runner from Central makes her the perfect addition to the team.  
"Working with all the girls has been really fun.  They are always such an awesome, motivated group,"she says.  "You definitely have to put in the time and really commit to the process in order to be successful, even in the off-season.  You get out of it what you put into it."
The team was shaken up enough already for just making it to Groups…little did they know that they almost wouldn't make it to Groups!  There was crazy traffic on the commute, so they almost didn't arrive in time!  Unlike in most sports where the referees might wait for said team, in running, if a team doesn't make it on time for the start, they just don't get to run the race.  It's also important to arrive early so the athletes can go through their pre-race routines.  
"Tiger balm…lots and lots of tiger balm. Oh and icy hot," says senior Jules Herms.  Jules swears by her sports creams…she couldn't go a race without them.  " The goal is to smell so toxic that you knock the other runners out," she jokes.  
Junior Ava Luskin likes to arrive early enough to fully stretch out and warm-up.  She and the coach are similar in that they like to be prepared and ready to go early on.  Senior Brittany Carratura is another case: where most runners begin their routines twenty to thirty minutes prior, Brittany usually waits until eight minutes before start time; it drives the coach bananas!  
"Yeah I mean everyone was all nervous because we were supposedly running late from traffic…but we had a whole thirty minutes until start time!"  Brittany had her shoes untied until just a few minutes before the runners went down to the start line.  "We all just need to slow down!"
Rushed or not, the team definitely ran a great race.  Senior Emma Alai came in first for the team, followed not too far behind by Senior Brittany Carratura.  Sophomore Sarah Bhargava came in third and junior Ava Luskin in fourth.  Seniors Jules Herms and Suzi Faulkner ran side by side from the start to the finish line, ending as fifth and sixth.  Ashton Young, a sophomore, ran as an alternate in the place of Corrine Rybarski, pulling in a strong time as the seventh runner.
The team is very close.  Despite their sarcastic claims, they are definitely all great friends.  They had some hilarious responses to interview questions.  Brittany explained that her strategy for getting through the course is to pretend you are in Mario Kart.  "Oh! And cartwheels.  You have to do a cartwheel at the start line.  I can't run a race unless I do one," she says.  They all agreed that you have to push the hills, no matter how hard they are.  But I must admit, my favorite comment was from sophomore Ashton Young: "What is your key to success?" I asked.  Her response: "Run JV."
Emma felt very "reflective" after her race, looking back on all her seasons of cross country throughout high school, and the other seniors agree.  All four seniors, Emma, Brittany, Jules, and Suzi, plan to continue running after high school, whether it is on a team or not.  "I don't think I will be on a team in college necessarily, but I will definitely run on my own," says Suzi.
Though a strong race for every teammate, they unfortunately did not advance to Meet of Champions.  The team was not let down though, as it was an honor just to be a part of Groups.  "We didn't even think we would make it this far," says sophomore Sarah Bhargava.
I asked Emma and Brittany what their plans for the future are: "Oh I don't know I'm not that far yet…I'm just excited for Winter Track."  Looks like most of these athletes are not going too far…we'll see them again on the track next month.