Trump Tweet Takeover: MLK Weekend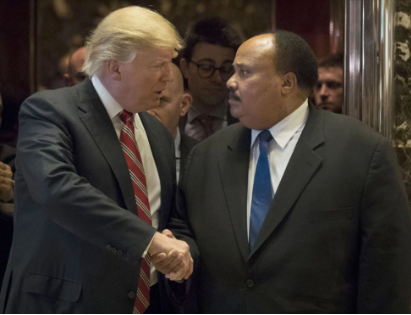 For the past 8 years, Martin Luther King Day has been honored by the first African American president, President Obama, who is a living example of Dr. King's aspirations. President Obama's monumental presidency came to end this January as President-elected Donald J. Trump took office. This year,  Martin Luther  Day was just 4 days away from Trump's inauguration. The events leading up to the celebration of the most influential civil right activist, included multiple headlines of Trump with prominent black leaders.
As 2017 beginnings, the nation divides due to the upcoming presidential swearing in. Protesters take the streets and new information about Russian participation within the election rises to the surface, causing chaos. Soon House democrats along with their colleagues vowed to boycott the swearing in, due to Trump's outlash on Georgia Democrat John Lewis. The feud between Trump and one of the most iconic civil rights leaders, who marched with MLK, started two days before MLK day. In an interview with NBC Lewis stated his reasoning for not attending the inauguration ceremony.
"I don't see this president-elect as a legitimate president," he said. "I think the Russians participated in helping this man get elected. And they helped destroy the candidacy of Hillary Clinton."
In response to this of Lewis' remarks, on Saturday morning January 14th, Trump blasted Lewis in a number of tweets attacking his accomplishments.
"Congressman John Lewis should spend more time on fixing and helping his district, which is in horrible shape and falling apart (not to……"
"mention crime infested) rather than falsely complaining about the election results. All talk, talk, talk – no action or results. Sad!"
"Congressman John Lewis should finally focus on the burning and crime infested inner-cities of the U.S. I can use all the help I can get!"
This caused a Twitter firestorm, of support for John Lewis who was beaten in Bloody Sunday, and who organized sit-ins and boycotts to stop the racial prejudice in Jim Crow South. Tweeters, responded to Trump with the message that his tweets were disrespectful as Lewis had risked his life to make America great again, free of racism, and Lewis is not "all talk, talk, talk-no action or results." Even some Republicans, like Republican strategist Rory Cooper spoke out against Trumps blast.
"You have to hit back. Can't help yourself. But accusing John Lewis of being all talk on MLK weekend? That's your plan?"
However Trump seemed to disregard this feud and rebuild his image of representing the American people, by meeting with Dr. Martin Luther King Jr.'s son on his father's national holiday. In the Trump Tower, the two discussed the civil rights leader's legacy along with "the broken voting system". King advocated his idea to Trump about having the government provide free voter identification cards. This would allow eligible voters who do not have a form of identification on hand still the right to vote. Martin Luther King III said that he had "a very constructive meeting" and "the goal is to bring America together." On MLK day, Trump tweeted:
"Celebrate Martin Luther King Day and all of the many wonderful things that he stood for."
"Honor him for being the great man that he was!"
Later on Monday, Mr. King strided towards peace like his father would have, surrounding the Trump and Lewis altercation, stating, " In the heat of emotion, a lot of things get said on both sides."
Even with focus on Trump over MLK weekend, the spotlight was still on the famous civil rights leader. All over the country, people marched in honor of him and celebrated the day in their own ways. Abby Chapin, Junior at West Morris Central contributed her celebration of MLK:
" I decided to celebrate the weekend with my family and reflect on the important day by watching the movie Selma with my grandma, which is about Martin Luther King."