A March for the Future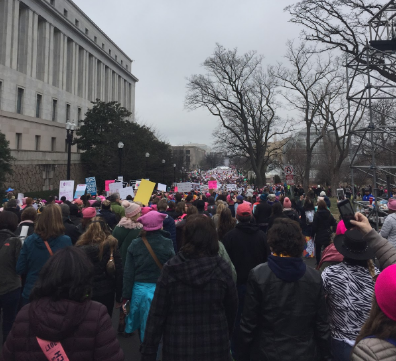 Hang on for a minute...we're trying to find some more stories you might like.
On Saturday, January 21st, I attended the Women's March on Washington in D.C. Surrounded by literally thousands of strangers, it would seem to be a chaotic, almost miserable experience. Without hesitation, however, I can say that the experience was one of the best ones I have ever had in my life. Here's why.
The estimates for the attendance of the Women's March in Washington, D.C did not anticipate for a result of almost one million people, including men, even though this march was mainly focusing on women's rights. Not only were marches held in D.C., but other major U.S cities such as Chicago, San Francisco, and Los Angeles. Internationally, there were cities like Melbourne, London, and Stockholm that took part in marches for women.
The attendance in D.C. was so large that at a point, the section I was in could not march because of the other sections filling up the streets so much. Although it was frustrating to wait and hope to march ( some even starting chanting while speakers were giving speeches), it was also exciting to know that, in a way, we shut down Washington D.C. Even though the participants were in such close quarters because of the amount of people, I never encountered someone who was anything but kind and patient. Whenever someone tried to go through, there were never groans that I hear so often in NYC subways and other busy places. It helped with the feeling of being together, and knowing that these total strangers have got my back whether I was just trying to get to my group, or simply get a better view.
    What makes this rally so impactful however, is not only the sheer amount of people who took part in it, but the future for women. It was an extremely rocky election year, where some may say women's rights have been set back decades. However, for the first time this year, I have felt like I myself, along with thousands of other women, can make a difference in the government and how it is run.
Although the President is not the one I hoped for, this march made me feel like I had a voice that mattered. Seeing all these people around me with hopes for the future, the idea of a change in government was an actually plausible one. One of those who went goes to WMC as well, a junior named Hannah Lindert.
    " I think it was a unification, it kind of brought everyone together so that we can move forward".
Being there, I completely agree with Lindert's opinion. It never felt like it was Clinton supporters against Trump supporters, or pro-choice versus pro-life. The general connection between everyone was a desire to have and keep the rights our grandmothers have worked so hard for.
Overall, I have no regrets after participating in the Women's March on Washington. It brought a feeling of not only unification, but of accomplishment and hope for the tumultuous future ahead.