The School's Attendance and Late Policy Brings Consequences to Students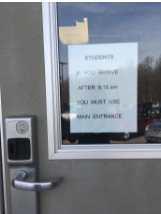 Hang on for a minute...we're trying to find some more stories you might like.
This school year one thing was brought to student's attention more than ever before, attendance, consequences for being late to school.
According to Mr. Braun each student is allowed 13 unexcused absences per school year, 7 per semester. Absences are only excused with a doctor's note, legal matter, or a driver's test. So where does that leave the college visits, family graduations, and extracurricular obligations?
Unfortunately these other events such as college visits are not excused, and for a good reason. Every student has different obligations and needs, some look at 5 colleges, some look at 20; students simply cannot be out for that long.
Now, the issue that seems to be causing the most problems for students, tardies. Starting this school year West Morris Central has been more efficiently tracking students late arrivals and handing out denations when a student reaches an unacceptable amount. The old dated system of filling out notecards for each late arrival is a thing of the part, something that many students will not even remember. The future of immediate notice of late arrivals is here, and it is pushing students.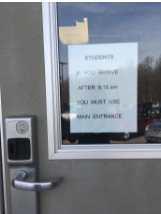 Each student is allowed 5 unexcused late arrivals per school, and the same rule follows for excused arrivals and absences. When a student reaches 6 late arrivals, he or she will be given an after school detention. Many students have witnessed this process, whether first hand, or just watching students be pulled from class to receive their detention from a teacher with the dreaded list.
Arguably the worst part of the late policy for students is the email to both parents and guardians, including a call home. This is meant to keep parents and students updated and aware of their late arrivals and absences. These messages also help to keep parents responsible for their children's late arrivals, and understand the policy and the consequences that go with it.
"I don't mind the after school detentions, it's the saturday detentions that are awful, it have sports on saturdays that I can't miss," said Tyler Sansone.
The saturday donations are a result of too many continued late arrivals, and interfere with extracurricular activities.
For some students, arriving on time is a struggle that has nothing to do with an overdrawn sleeping schedule. Some have legitimate reasons for their tardiness, perhaps because of illness, young siblings or a parent's work schedule, so what should be done for those students? Should the school at least entertain students late excuses? I think so.
And so the question remains, the tardy and attendance policy, helpful or hurtful.