Two Shows for Centrals PDP
Hang on for a minute...we're trying to find some more stories you might like.
The summer show at West Morris Central, also know as the PDP show, has a surprising twist. This year, there are two shows instead of just one, and they are Nunsense and 13.
Nunsense is a witty comedy musical in which five colorful nuns attempt to raise money to pay for the needs of their convent through a hilarious, out of place talent show. The show begins with the convents cook, Sister Julia, accidentally poisoning and killing the other 52 nuns of the convent, leaving the five to have to find money to pay or their funeral.The talent show, filled with comedy and twists and turns eventually spirals into a full blown show for the sisters, reaching new levels with crude jokes, and misplaced meanings all slipping from the nun's mouths.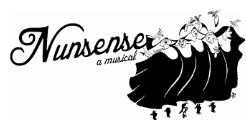 13 the musical follows young Evan Goldman as he moves to a new town and attempts to make new friends and find his place in the social scene in time for his bar mitzvah. He is right on the edge of thirteen and trying to navigate the rocky world of middle school, with dating, and misread meaning, and the complex social groups at play. This show takes you right back to your middle school days, something you swore to never return to, and relives it through this clever rock musical.
Mr. Hogan, Central's drama teacher and director, was able to give The Paw an exclusive interview about the shows:
Q.) Why did you decide to do two shows?
A.) The purpose of the PDP is to push students in their professional development as performers and participants in theatre. In the past, we've used the PDP to explore in-the-round and minimalism. This year, we look to provide the students with more autonomy than ever before. Producing two shows has allowed us to give more student-opportunity for leadership in the various areas of theatre.
Q.) Why were these shows chosen?
A.) For the fall drama and spring musical this year, we explored theatre that acted as a social commentary on specific aspects of our world today. Both pieces were powerful, but erred on the darker side. This year's PDP shows, 13 and Nunsense, are small-cast comedies. They contain many colors and vibrant bits of humor.
Q.)What challenges will you be facing?
A.) Staging and producing two shows will not be easy, but I'm confident our students will deliver.
Q.)Who is on the production team?
A.) The production team is composed of many students. The production team members can be found on the Central Theatre PowerSchool Learning Page by clicking the 2017 PDP link.
Q.) What you expect from these shows?
A.) My hope is that all the participants will continue to cultivate and develop their voice and means of expression. The more opportunities we give our students the grow, the stronger they become.
These shows have been hard at work rehearsing for almost three weeks, and I cannot wait to see the finished product! Make sure to check it out June 29th, 30th, and July 1st!