Going Gold for September
Hang on for a minute...we're trying to find some more stories you might like.
By Alyssa Spady, Editor-in-Chief and Rebecca Bartiromo, Staff Writer
September, across the nation, is recognized as Childhood Cancer Awareness month. Throughout the entire month, athletes, members of the community, and organizations are encouraged to wear gold to show their support for childhood cancer research. Currently, only 4% of funding towards cancer research goes to children's research. Many cancer foundations, especially those that specifically help children, have used the hashtag "#morethan4" in order to raise awareness. A great source to see why this funding is so vital is curesearch.org, here you will find some imperative facts to know about childhood cancer and the effect it has on the world.
Each year, parents of some 175,000 kids will hear the heart-wrenching words "Your child has cancer"

Every day, 43 children will be diagnosed with cancer

Of that population of those who are diagnosed, 12% will die from the disease

Cancer has no target, it attacks all children regardless of race, gender, age, or socio-economic background

The average age of diagnosis is six years old

More than 40,000 children will undergo treatment each year

60% of those who are diagnosed and live will suffer late-effects such as infertility, heart failure, and secondary cancers

There are approximately 375,000 adult survivors of childhood cancer in the United States

This equates to 1 in 530 adults, ranging from ages 20-39
Wearing gold and donating to foundations whose funds go directly to childhood cancer research can help us save those who are affected by this illness in the future, but it can also be used to remember those that we have lost along the way. Unfortunately, WMC has had its own share of losing students to this horrible battle. In April of last year, we lost our dear and beloved friend Sarah Crowley, at the time a freshman here at WMC. We remember her as a kind-hearted, brave, and loving young girl who demonstrated copious amounts of strength to the world. She has given all of us inspiration that can never be ignored. Following her tragic death, Sarah's mother, Ingrid Crowley, decided to continue to spread Sarah's love and kindness through the power of her new  foundation that she created in her memory; Sarah's Fight for Hope Foundation. Sarah's Fight for Hope Foundation helps children that have been diagnosed with cancer by creating baskets for them filled with goodies to keep their spirits up while they are going through treatment. These baskets are hand delivered by the Senior Leaders of the foundation and the leaders also spend time with the patient playing and talking. Aside from the baskets, fundraisers are held year round to send money to those in need. All proceeds go directly to patients of Goryeb Children's Hospital, to the kids which the foundation is directly helping. This wonderful foundation holds lemonade stands, bake sales, poster-making, card-making, pays hospital visits, and much more. Something especially great that they have done recently is purchase hundreds of halloween costumes in order to bring them to hundreds of kids going through treatment at Goryeb and throw them a mini Halloween costume party. Each room was filled with spooky Halloween decorations and brightly beaming children who were more than excited to forget about treatment for a while and have some fun. For kids that are in treatment, it is not only harsh on their mental, emotional, and physical health, but it also heavily affects their family and friends. This is yet another reason that kids deserve #morethan4. Sarah's Fight for Hope Foundation is an incredible organization that lovingly promotes perseverance, awareness, love, and strength, their signature "logo"; P.A.L.S. PALS is the portion of the organization that is run by teenagers, allowing kids to truly get involved in the campaign for getting children's cancer to receive more than 4% of funding. PALS accepts any and all members 18 and under, expanding their horizons and leaving both their arms and their hearts open for love from people of all types of ages. If you or someone you know would like to join PALS, feel free to email the foundation at [email protected]. Thanks to this inspiring foundation, we as a community are able to spread the love and compassion that is shared in memory of Sarah Crowley, and at the same time fight for the children who are fighting their own battles with cancer.

Hang on for a minute...we're trying to find some more stories you might like.
About the Writer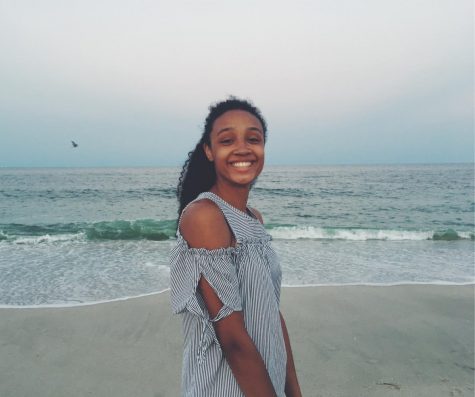 Alyssa Spady, Editor In Chief
My name is Alyssa Spady, I am a senior and this is my third year in journalism. I joined journalism because I want to become a Broadcast Journalist. The...