The Giant Giants Issue
Hang on for a minute...we're trying to find some more stories you might like.
The New York Giants have officially fired Ben McAdoo and according to players like Victor Cruz, this was 'long overdue'. The firing came after the Giants ended their season 2-10, an embarrassing and very poor record. It appeared the final straw for McAdoo came from benching quarterback Eli Manning, after Manning, a well known name on the Giants team, had played 171 straight games at the starting position. He was replaced by Geno Smith on Sunday.
Victor Cruz had said that benching Eli manning was "One of the most disrespectful things I've seen in a very long time."  
Despite this Manning has said he still wants to try and remain friends with McAdoo after his firing. Apparently McAdoo being fired was not upsetting for Giants players as apparently players had limited respect for him and gave anonymous reports about how he handles them and practices. The Giants have faced many controversies this season including Odell-Beckham early season issues, in-house suspensions, the Manning incident, and now this.
Some players believe these issues would not have occurred under previous head coach Tom Coughlin. Despite his stern nature and wanting everything done in a certain way, the players loved Coughlin and had a great amount of respect for him and would never go against his command. The same however, cannot be said about McAdoo. However, some players said the firing came as a surprise despite many of the controversies, with some players expressing some sense of pity towards him as they say they don't want to wish a firing upon anyone, with one player saying he should have been given another year as a lot of the issues came from the multitude of Giants players injuries.
Steve Spagnuolo has stepped in to take on the role of head coach for the Giants making minor tweaks such as making Friday no longer a 'spa day', and a new dress code which he hopes will help in improving the Giants play and record.
Spagnuolo's goal was to reportedly "give every ounce of energy to help unite, restore and win football games."
The Giants have four games left to play, and Spagnuolo told players they were going to go by one win at a time, looking at things in a short-term perspective. Spagnuolo also reinstated Eli Manning as the starting quarterback. However it is important to keep in mind that prior to being instated as the head coach, Spagnuolo was the Giants defensive coordinator, the same defense who are ranked 32nd in the NFL, dead last. Spagnuolo will supposedly still focus most of his attention on the defense, but when he's needed to handle other matters safeties coach Dave Merrit will step in for the defensive control of things. If Spagnuolo wishes to continue his role as head coach the Giants must finish strong. This will prove difficult as yet another player has been added to the season ending injury roster, that being defensive captain Jonathan Casillas with neck and wrist injuries.
Unfortunately for Spagnulo, the Giants failed to avenge themselves in the game against a large rival the Cowboys, losing 10-30. In asking Justin Morris about the Giants season he said,
"I personally think the Giants went off the rails when the receivers went to Miami and partied last year before their playoff game against Green Bay which they lost. I think this when the downfall happened which is reflected this season. I don't know what McAdoo's deal is, I think he is a crummy coach, I mean they did well last year. Maybe Odell's injury had something to do with it, he was a big playmaker and once he went down the team went with him."
Being a Giants fan myself, the team's season has been heart wrenching, but hopefully they'll come back next year stronger than ever before.

Hang on for a minute...we're trying to find some more stories you might like.
About the Writer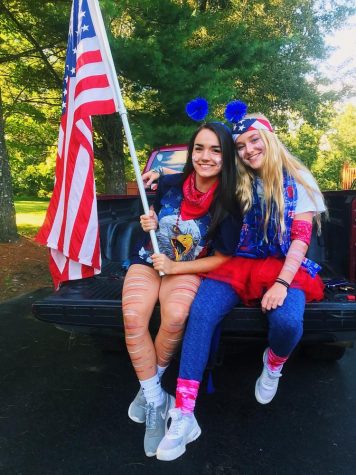 Nicole Legg, Sports Editor
Hello my name is Nicole Legg and I am a senior this year. I took journalism because I've always enjoyed writing especially when it is more pertaining...