Kim and Kanye Welcome Their Third Child
Hang on for a minute...we're trying to find some more stories you might like.
By Pamela Smith, Assistant News Editor
On January 15th, 2018, around 1pm, Kim Kardashian and Kanye West's third child was born via surrogate. The baby girl weighed 7 pounds 6 ounces, and is named Chicago West. Kim and Kanye are overjoyed about their new addition to the family, which comes just over 2 years after their son, Saint West, was born, and five after North West was born.
San Diego resident La'Reina Haynes, a mother of two of her own children, was the surrogate. She gave birth to Chicago at Cedars-Sinai Medical Center in Los Angeles. She was paid $68,000 for carrying the baby, and the Kardashians paid Haynes a visit only days after Chicago was born. Haynes had a strict set of restrictions set by Kim and Kanye for the pregnancy, including her diet and clothing.
The "surrogate" was technically a gestational carrier, or a woman who carries a baby that is not biologically hers, so that Chicago is biologically Kim and Kanye's baby. The surrogate herself was not someone that the couple knew, but rather hired from an agency. Kim hired a surrogate to carry her baby because she has a high risk of complications, such as preeclampsia and placenta accreta, with any future pregnancies.
The baby girl was named "Chicago" for the city her father Kanye grew up in. The name is a tribute to Kanye's mother Donda, who moved and raised him in Chicago after splitting from his father. The baby's actual name is not pronounced the same as the city; Kim clarified on social media that the girl's name is pronounced "Shy-cago," and that her nickname would be "Shy." The Kardashians have also revealed via Instagram that Chicago, at one week old, already has her own personalized clothing with her name written on it.
"I think it's very significant to the mother's story, and therefore a beautiful name," said sophomore Nick Taylor.
"I personally am not a fan of the name Chicago; I think it was a bad decision to make," said John Triant, sophomore.
Rumors circulated that Kim Kardashian was already planning on having the same surrogate carry another child soon after Chicago was born. These rumors were soon called false by Kardashian, and it is unclear whether Chicago will be the last child of Kim and Kanye. For now, Chicago West will be spending time with her older siblings and parents, away from the cameras of the paparazzi.
Photo Courtesy Celebrity Insider

Hang on for a minute...we're trying to find some more stories you might like.
About the Writer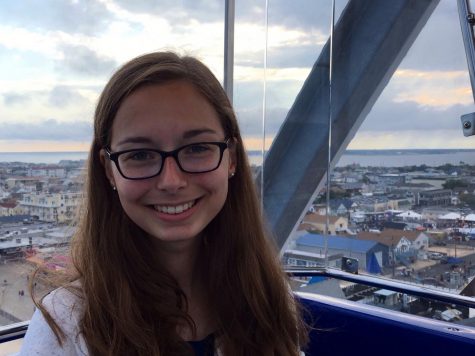 Pamela Smith, Assistant News Editor
My name is Pamela Smith, and I'm a sophomore. I took journalism this year because I was in the club last year, and thought that writing stories was fun...