Amazing Things Never Come From Comfort Zones
Hang on for a minute...we're trying to find some more stories you might like.
Mark Mcmorris, his name is the definition of perseverance and determination. The twenty-four year old from Canada is performing in the 2018 Winter Olympic Games in Pyeongchang, South Korea. His events in the games are Men's Snowboarding, Slopestyle, and Big Air. The slopestyle is a course that includes a variety obstacles such as rails, jumps, and terrain park features. On the other hand, the big air event focuses on the height a snowboarder gains from their jump, judges look for how much air they gain throughout the course. Mark Mcmorris followed in his older brother's footsteps and began to snowboard at age five. Their mother, Cindy Mcmorris, had to pull them off the hills at the end of the day- snowboarding is their way of life.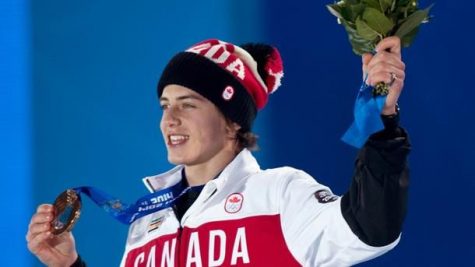 In March of 2017, eleven months before the Olympics, Mcmorris suffered from life-threatening injuries due to a snowboarding accident in Whistler, Canada. He was in a medically-induced coma with a collapsed lung, ruptured spleen and seventeen broken bones. Despite his injuries, Mark McMorris swept the bronze medal in slopestyle as his fellow teammate, Max Parrot, won silver. Some may say it was a miracle, but it was simply Mcmorris' determination and hard work that paid off for him to stand on the podium yet again. On National Post's website, Mark McMorris talked about his injury, "There's a lot of self doubt. Just, like, do I really want to be doing this anymore? But I don't have anything else that brings this kind of joy to my life. Obviously, it's really stressful, and it can be tough at times, but I'm happy that I pushed through everything and I'm back here" (nationalpost.com, 06 Feb 2018).
Students of West Morris Central spoke about Mcmorris and his accident.
"I think it is one of the most exciting sports, but it is an incredibly dangerous sport. I respect any athletic in the Olympics, especially the athletes in extreme sports because it takes guts and risks," claimed by John Hagler, senior.
Senior, Robby Zarouni, stated, "I think it's really powerful knowing someone can from being completely unable to perform the sport to less than a year later being the third best in the world."
"It is very impressive he got the bronze medal, he definitely earned it," stated by senior, Brian Hunt.
History teacher, Mr. Goodwin, is all caught up with the 2018 Winter Olympics. He said, "I think it's a great story, from being in a coma for a short period of time to playing in the olympics that requires a lot of hard work and determination. It shows the character of the guy."
Overall, Mark Mcmorris has earned his bronze medal and is working hard to take home another medal in the Big Air event.

Hang on for a minute...we're trying to find some more stories you might like.