Donald Trump Delivers the 2018 State of Union
Hang on for a minute...we're trying to find some more stories you might like.
On the morning of January 30, 2018, President Donald Trump addressed Congress with his aspirations for the future of the country, and his perceived achievements of country in his first year of presidency. Trump proclaimed a "new American moment" was being created in the country, and offered an "open hand" to Democrats to bridge the gap between political parties. Republicans answered each of his statements with a standing ovation and applause, Democrats sitting silently with some clapping or standing. Although Trump's made many exclamations about the prosperity of the country in recent time, most are very exaggerated or even false.
When speaking about healthcare in this country, Trump stated that, "We eliminated an especially cruel tax that fell mostly on Americans making less than $50,000 a year — forcing them to pay tremendous penalties simply because they couldn't afford government-ordered health plans. We repealed the core of disastrous Obamacare — the individual mandate is now gone.'' Congress did repeal the law that stated that Americans without health insurance would face tax penalties; however, it does not take effect until 2019, so fines must still be paid until then. Around 4.5% of taxpayers paid this fine in 2015, with 60% of those people making less than $50,000 per year. Some of his other healthcare claims were true, as Americans do pay much more for prescription medication than in other countries. The FDA also did approve more new and generic drugs and medical devices than ever before last year, as the President said.
Taxes and the economy were also a major part of Trump's speech, with many remarks about current and future jobs, as well as recent tax reform. Trump has repeatedly said that the recent tax cuts for the average American were the "…biggest tax cuts and reform in American history," which is completely false. Tax reform enacted by former President Ronald Reagan had much more of an impact in terms of effect on the economy and federal revenue. One source put Trump's tax cuts as 12th in American history, another as the 8th, as a share of the economy. He stated that these recent tax cuts have already benefited the American worker, but there is a variety of benefits from worker to worker. Trump said that it saved "many of them thousands of dollars per worker," however most cuts saved most people hundreds to a few thousand dollars. The President also mentioned the remarkable records set recently by the stock market, which is true, as stocks have been steadily rising under his administration. Trump mentioned that "We have ended the war on American energy — and we have ended the war on beautiful, clean coal. We are now very proudly an exporter of energy to the world." There are a few things wrong with this statement, the first being that there never was a "war on American energy", as internal production of energy resources have increased in recent years, reducing the need for import from other countries. The United States has also been an "exporter of energy to the world" in many ways for years, with the United States projected to be a net energy exporter in the 2020s. Lastly, coal is in no way clean, but the Trump administration has rolled back restrictions on the coal industry; despite this, the industry is still suffering and has been dying from natural gas competition. 83% of major air pollutants are caused by coal usage alone, with power plants being a major source of this. Coal burning emitted more than 6 million tons of sulfur dioxide and nitrogen oxides in 2011, compared with 430,000 tons from other energy sources combined.
Immigration is also a large topic in this address, as well as in Trump's administration. The President made a remark saying that, "The third pillar ends the visa lottery — a program that randomly hands out green cards without any regard for skill, merit or the safety of our people." This is completely false. The visa lottery is the exact opposite of his statement, with skill, merit, and safety being the main requirements for entering this program. It awards up to 50,000 green cards a year to people from countries with low immigration rates to the US. A high school education or two years experience in a trade identified by the Labor Department are required, as well the long background check that all other legal immigrants are subject to. Trump also made a remark about immigrants bringing in their relatives, saying, "Under the current broken system, a single immigrant can bring in virtually unlimited numbers of distant relatives." This is misleading, as immigrants can petition to bring in relatives, but it does not automatically allow them entry into the United States. There is an annual limit for the amount of people who can apply per person; as of November 1st, more than 3.9 million people were waiting for their claims to be processed through this program, with applicants from 2004 just getting theirs processed.
President Trump's State of the Union address earned a mix of reactions. On February 4th, the North Korean government blasted the speech, saying it attacked the country viciously and that the speech's content reflected "…the height of Trump-style arrogance, arbitrariness and self-conceit." Democrats disliked the speech for its stance on immigration and other key subjects, while Republicans praised it. Trump himself said that the Democratic reaction to his statements, in regard to the lack of clapping, was "like death," "un-American," and "treasonous." Despite both positive and negative responses and stances on this speech, the future of our country depends on the views presented by leaders, as well as an informed population on the issues the country faces as a whole.
Images courtesy The New York Times

Hang on for a minute...we're trying to find some more stories you might like.
About the Writer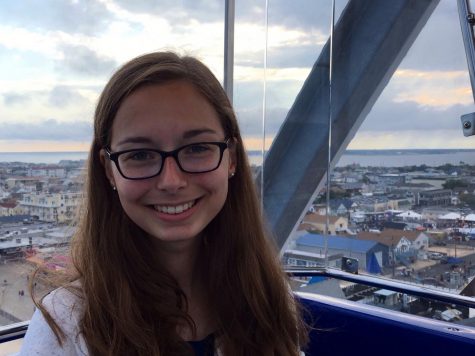 Pamela Smith, Assistant News Editor
My name is Pamela Smith, and I'm a sophomore. I took journalism this year because I was in the club last year, and thought that writing stories was fun...