Chloe Kim Dominates Women's Snowboarding
Hang on for a minute...we're trying to find some more stories you might like.
At just 17 years old Chloe Kim has earned her spot as one of the most dominant women's snowboarders in the sport. The 2018 winter Olympics are the first games Kim is eligible to compete in due to the fact that she was too young to participate in the Sochi games, at the age of 13. Although she was unable to compete in the games four years ago she is ready for PyeongChang and is a favorite to win gold in the halfpipe competition.
Here's what sophomore Lauren Compoli had to say about Kim's first Olympics, "It's really exciting to see someone so close to my age do something I could only imagine doing".
Mr.Hennely shared his opinion about young people, like Kim, going to the Olympics, "I think it's great and I think if they are good enough to qualify and have success that's great".
Kim got her start in snowboarding at age four and by the time she was six, she was already competing in junior competitions all over the US. However, none of this would have been possible without her father, Jong Jim, who has played an influential role in her snowboarding career. Her father had brought Kim to the mountain where she would first learn how to ride and quit his job when she was 10 so she could continue to pursue her snowboarding career.
Sophomore Emma Ortiz was very impressed with Kim saying, "I think she is an inspiration to young girls all over the world. She is showing them that anything is possible no matter how old you are".
Even before Kim made her way to the Olympics she had several gold metals and many other accomplishments under her belt. At 15 she became the first female snowboarder in history to land back-to-back 1080 degree spins in competition at the US Snowboarding Grand Prix in February 2016. This trick got her a perfect score of 100 an achievement only accomplished by Shaun White, who is known as one of the best in men's snowboarding. She has also won gold in the halfpipe and slopestyle events at the X Games, the World Snowboard Tour, the Toyota U.S. Grand Prix, the Youth Olympic Games, and several other competitions.
Kristine Hauser, a sophomore, was more than impressed with Kim's achievements saying, "I think it's really cool how somebody so young is able to reach such an achievement. I can only imagine how difficult the process was, but how awesome it feels in the end".
Kim is undoubtedly one of the best and most decorated snowboarders in the sport at an impressively young age, and has just added another gold medal to her collection. On February 12th, Kim won Gold in the women's halfpipe final at the Olympics with a score of 98.25. She had already secured the gold medal on her first run with a score of 93.75, but decided to one up herself in her final run.
Here's what sophomore Maddie Ligos had to say about Kim's amazing accomplishment, "I think she is a role model for teenage athletes everywhere and shows how hard work and determination pays off".
If I was an Olympian I would try to have as much fun as I could. It takes a lot of hard work to get there so I would want to enjoy every moment. I would do my best in my competition and know that even if I didn't win, it was still an accomplishment just getting there. I would want my family and friends to be there to cheer me on and get to experience it with me. I would just try to make the most of every moment because it could be a once in a lifetime opportunity.

Hang on for a minute...we're trying to find some more stories you might like.
About the Writer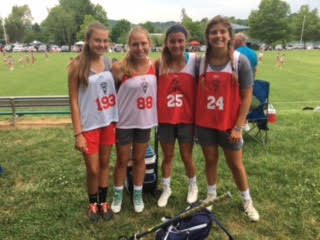 Caroline Compoli, Fundraising Chairperson
My name is Caroline Compoli, I am in 10th grade. I took journalism because I have always been interested to see what it is like to be a journalist. I also...