Death of XXXTentacion
Hang on for a minute...we're trying to find some more stories you might like.
On June 18th 2018, rapper Jahseh Dwayne Onfroy, also known as "XXXTENTACION", was shot dead in Miami, Florida. The list of suspects include Dedrick Williams, Michael Boatwright, Trayvon Newsome, and Robert Allen.  They have all been indicted on charges of armed robbery and first-degree murder.
The rapper had his fair share of controversy while he was alive. Yet the controversy surrounding him allowed him to arrive on the scene in 2015. His friend, Denzel Curry, said: "The thing with X is, when he got into trouble, that's what blew him up."
Due to his death, it has been heavily debated about whether or not these controversial issues should be disregarded. This allegations includes abusive actions towards his wife and cellmate while in jail.
Though he died, some think his actions should not be forgotten, and that the rapper should not be glorified simply because of his death. Regardless of the controversy surrounding him, there have been many conspiracy theories about the rapper, some alleging he may not even be dead at all.
Shortly before his death, Onfroy had an Instagram live-stream where he was talking about himself dying, leading fans to believe that he predicted his own murder. There are also theories speculating that the rapper faked his own death. These theories started after a video was posted on Twitter of Onfroy shot dead in his car, he was missing a tattoo on his face which was there prior to his murder. Also, according to the videos and witnesses, there was no blood on the rapper's body. Both of these factors lead people to believe it was not him who was shot, or that no one was shot at all.
Regardless of the controversy surrounding him and the conspiracies about his death, 'XXXTENTACION' will forever carry a great legacy, and will not be forgotten.

Hang on for a minute...we're trying to find some more stories you might like.
About the Writer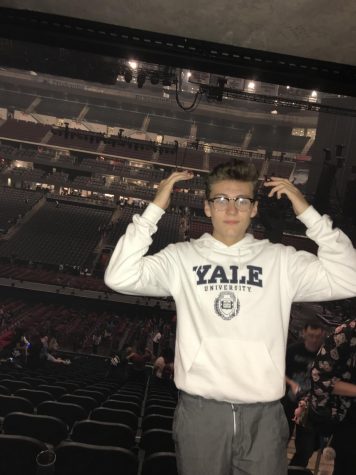 Wyatt Inghrim, Features Writer
My name is Wyatt Inghrim, and I am a sophomore here at West Morris Central. I participate in winter track and play tennis for the school. I am also a  part...