Kaepernick Strikes Again
Brave. Disrespectful. Leader. Ignorant. Hero. Traitor. These are just some of the words used to describe former NFL quarterback Colin Kaepernick since he began kneeling for the playing of the national anthem at the beginning of the 2016 NFL season. Two years later and Kaepernick is still in headlines. Nike has recently released an advertisement with him as the front man, which has stirred up more of what is the best word to describe him. Controversy.
Controversy and Colin Kaepernick have been synonymous over the past two years. Much of this controversy has stemmed from misinterpretation. Kaepernick kneeled for the playing of the anthem in protest of the oppression of black people and people of color in the country.
He explained "I'm going to continue to stand with the people that are being oppressed. To me this is something that has to change. When there's significant change and I feel like that flag represents what it's supposed to represent, this country is representing people the way that it's supposed to, I'll stand".
The purpose of the protests have been to fight for equality and ignite change. While noble, the message has often been misconstrued, as discontent has increased through the form of protest. Many have grown frustrated with Kaepernick claiming he, and others who have joined him in protest, have blatantly disrespected United States and the men and women who serve their country. The players who have united in protest, led by Kaepernick, have all said that they mean no disrespect. They have stressed their intent must be recognized not as one that is meant to do harm, but instead create positive change for people facing oppression.
Fast forward to today, and Kaepernick is still fighting for change. Now, he is backed by Nike. In the new commercial, which debuted during the first NFL game this season, on September 6, highlights the achievements of athletes who have exceeded expectations by accomplishing what is "crazy". At the end of the clip, Kaepernick is revealed as the narrator, with the United States flag reflected in the background.
The ad's tagline, spoken by Kaepernick, is "Believe in something. Even if it means sacrificing everything."
Nike provides a powerful idea, perfectly represented by the now ex-San Francisco 49er, who was exiled from the league for his actions.
Kaepernick has now been out of a job for two years, much to the displeasure of his fellow players. Yet, the NFL has continued to put the desires of large sum of its fans over its own players, creating huge tension between the league and the players association.
In contrast, Nike has delivered a strong stance yet again, sticking behind their athletes. This is not the first time the company has stuck behind athletes caught in the midst of controversy before. Nike athletes like Kobe Bryant and Tiger Woods have seen legal troubles in their past, which they both overcame. Nike supported them just as they continue to support Colin Kaepernick now, showing they are more concerned about loyalty and integrity, rather than losing a couple dollars due to bad publicity. For Nike, their decision is proving to be a good one as the company's stock recently closed at $83.47, the company's all-time high.
However, the problems presented by the Kaepernick situation have not just extended to football. Recently, the country has seen a great debate over an athlete's ability to have a political voice. NBA star LeBron James, among many others have voiced support for Colin Kaepernick and their other political opinions. Many have shown disapproval of the athletes, including President Donald Trump who has specifically called out Colin Kaepernick and LeBron James for their political stances. The opposition to athletes has posed an interesting question as to whether or not the athletes should have a voice. To completely shut them down would be to take away their first amendment rights. Yet, politicians have argued the quality of their opinions to be very poor.
Regardless of capability, Kaepernick's battle continues to rage on. Only time will tell if he is able to make progress.
About the Writer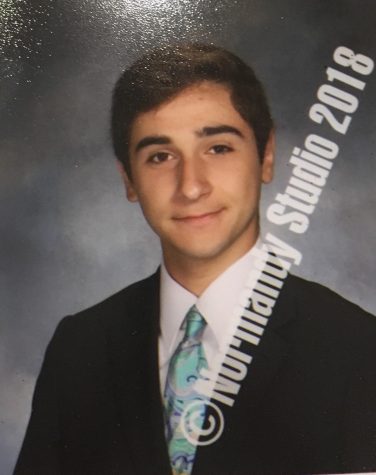 Patrick Marchetta, Sports Writer
I am Patrick Marchetta, I'm a senior and am in the sports department. I am big New York Giants fan. I like to watch WWE, it's not fake it's scripted....