Mrs. Feltimo's Christmas Cookie Ideal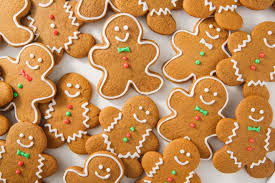 During the joyful holiday season, food is the main opportunity for the family to come together and enjoy themselves while cooking or baking with each other. Christmas time is mostly filled with baked goods such as cheesecake, brownies, etc. Their sweet aroma often fills your house and increases the sense of Christmas spirit. 
West Morris Central's culinary arts teacher, Mrs. Eliza Feltimo states that gingerbread cookies are the best baked goods for the winter season. The origin of gingerbread cookies trace back to ancient Greece and Egypt, where they were utilized for ceremonial purposes. Mrs. Feltimo loves these cookies for their unique taste as a dessert, as they are not too sweet and contain a hint of spice. Desserts typically have an overbearing taste of sugar which reduces your enjoyment of the product, but only if you dislike a large amount of sugar in their food. Gingerbread cookies naturally have a dry and crispy texture, allowing them to become sturdy objects that can be used as decorations. The cookie's strong structure allows the decorator to make a hole and insert thread in order to hang it somewhere without it falling apart. As a tradition, Mrs. Feltimo would make holes in the gingerbread cookies and decorate them as ornaments for the Christmas tree. Also, gingerbread cookies can be created into gingerbread houses. The idea of gingerbread houses became popular in the 19th century after the Brothers Grimm published their fairy tale collection which included "Hansel and Gretel." 
In preparation for the cookies, the dough should be placed between two sheets of parchment paper to reduce and control the mess created by the flour then rolled out. If too much flour is added to the recipe, the cookies will become crumbly and fall apart in the process. If you were to leave the gingerbread dough between the parchment paper, it can be stored in the freezer for 6 months, if properly wrapped. When baking gingerbread cookies, it's difficult to decipher whether they are done due to their natural brown shade. Mrs. Feltimo recommends that the bakers look at the edges of the cookies. When they are darker than their original shade they are finished. Underneath the cookie should consist of a golden color to ensure their readiness. For toppings, you can use royal icing, an icing that contains pastored egg white, sugar, and vanilla. If the icing appears to be too thick, add water to loosen the substance, making it easier to spread. This particular icing is usually used when baking sugar cookies as well, making it appear more decorative. An alternate topping would be powdered sugar mixed with milk. 
I questioned the knowledgeable culinary teacher about the differences between store-bought and homemade gingerbread cookies. She informed me that store-bought cookies contain more preservatives to prolong the product's shelf life. Therefore, when you create your own gingerbread products, they will go staler in a shorter period of time due to the lack of added preservatives. Another benefit of baking your own goods is that you will tend to eat less of it. The effort of preparing and baking will allow you become less hungry and tired over the period of time, causing you to eat less. 
The recipe provided below was created by Mrs. Eliza Feltimo herself. It is able to provide on average, 2 dozen cookies if the cookie-cutters are regular size. If you were to use a small shape, more cookies will be produced and vice versa with larger cookie-cutters. 
Overall, the classic Christmas cookie, the gingerbread cookie appears to be the best treat for the shivering season, according to Mrs. Feltimo. Their unique taste and preparation allow the family to come together to decorate creatively and celebrate the final product. Gingerbread cookies and houses are a must have, considering they are Christmas classics. Who wouldn't enjoy crunching on these flavorful treats beside a comforting open fireplace? The possibility of these delightful snacks losing its popularity is nonexistent. 
Happy Holidays!
Recipe
Gingerbread Cookie Dough
Makes about 2 dozen 5" tall cookies
Ingredients:
3 cups all-purpose flour
2 tsp. baking powder
¼ tsp. salt
1 Tbsp. ginger
1 ¾ tsp. cinnamon
¼ tsp. cloves
6 Tbsp. butter, room temperature
¾ cup packed dark brown sugar
1 egg
½ cup molasses
2 tsp. vanilla extract
Directions:
Preheat oven to 350F.
In a large bowl, whisk together all dry ingredients until well blended.
In the bowl of a stand mixer, beat together the butter and sugar. Beat with a paddle attachment until well combined and slightly fluffy.
Add egg, molasses, and vanilla. Mix until well combined, scraping down the sides as needed with a rubber spatula.
On the stir setting, slowly and continuously add the dry ingredients to the mixer bowl until just combined.
Divide dough into 4 pieces.
Place each piece on a sheet of parchment paper. Place another piece of parchment on top of each piece of dough.
Using a rolling pin, roll the dough into a uniform, 1/8" (one-eighth inch) thickness
between the two sheets on parchment. Label the parchment with period and kitchen number.
Place dough sheets in the fridge for 20 minutes or up to 2 days.
When ready to bake, remove the top piece of parchment paper gently and reverse it onto the dough. Then flip the dough sheet over and remove the 2nd piece of parchment and discard it.
You can now cut the dough into any shape you like using cookie cutters.
Place each cut cookie onto a parchment lined cookie sheet and place in oven.
Bake until edges just begin to color. Remove from oven and place on a cooling rack.
Cookies are ready for decorating as soon as they are cool.
Royal Icing for Cookies- Egg White Method
3 ½ cups
Ingredients:
3 ounces pasteurized egg whites
1 tsp. vanilla extract
4 cups powdered sugar
Directions:
In large bowl of stand mixer combine the egg whites and vanilla and beat until frothy.
Add confectioners' sugar gradually and mix on low speed until sugar is incorporated and mixture is shiny.
Turn speed up to high and beat until mixture forms stiff, glossy peaks. This should take approximately 5 to 7 minutes.
Add food coloring, if desired.
For immediate use, transfer icing to pastry bag or heavy duty storage bag and pipe as desired. If using storage bag, clip corner. Store in airtight container in refrigerator for up to 3 days.
https://www.thespruceeats.com/the-history-of-gingerbread-1135954
About the Writer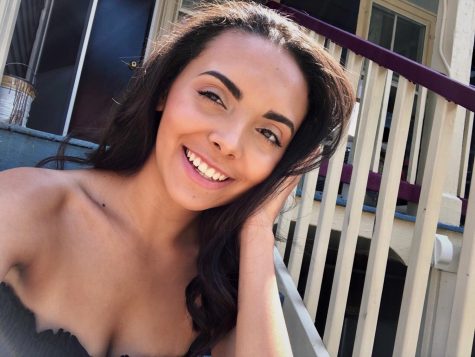 Tiffany Blanchard, Layout Editor
Tiffany Blanchard is a senior at WMC. This is her first year of journalism, she took this class to further improve her writing skills. she loves writing...