Verizon's Pay it Forward Live
On Thursday March 26th, Verizon's Pay It Forward Live will be launched with at-home performances from artists, including Dave Matthews who will give the debut performance. This weekly streaming series provides entertainment for the people stuck at home, and all the proceeds go to supporting small businesses affected by COVID-19. 
Artists will perform for 30 minutes from their homes, gifting the victims of at-home boredom with intimate concerts from the artists' homes. These concerts will give viewers a way to connect during this time of social distancing and a way to support their favorite small business now. 
Over the course of Pay It Forward Live, viewers are encouraged to do what they can to support local businesses in their own communities by shopping online, buying a gift card to be used when businesses reopen or ordering a meal. Verizon will also donate $10 to support small businesses each time the hashtag #PayitForwardLIVE is used. Consumers are given other opportunities, such as partnering with PayPal and Square to give Pay It Forward Live viewers the ability to support small businesses within the live streams.
Verizon has donated $2.5 million to Local Initiatives Support Corporation (LISC) small business COVID-19 relief efforts. LISC will use the funds to provide grants of up to $10,000 to businesses facing immediate financial pressure because of COVID-19, especially entrepreneurs of color, women-owned businesses and other enterprises that don't have access to flexible or affordable capital in historically unjust communities. 
Verizon hopes to help all parts of the community that face the horrors of the pandemic. "Healthcare workers are physically and emotionally putting themselves on the front line of the fight against COVID-19," said Tami Erwin, CEO of Verizon Business Group. "And for small businesses – especially restaurants – the impact of social distancing is real. This is an opportunity to bring these groups together, providing a purpose and resources to continue supporting restaurants, and a small gesture of thanks and comfort for hospital and emergency workers in New York City."
Verizon believes that Pay it Forward Live is a great way to provide happiness and entertainment to everyone stuck at home, while simultaneously raising money and awareness for businesses suffering from COVID-19. With their efforts, the community can potentially heal from this horrible outbreak. 
Leave a Comment
About the Contributor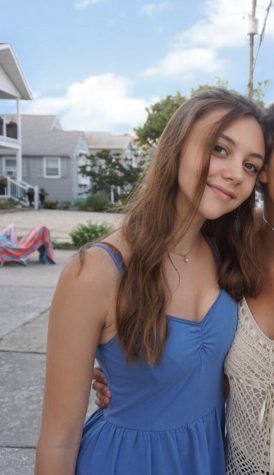 Olivia McArtney, World News Editor
Olivia McArtney is a senior at West Morris Central. She writes in the newspaper because she hopes to pursue journalism in college and as a career. She...