Recipes in Quarantine
Joys of cooking in COVID
All this free time during quarantine has inspired many to try new things. From arts and crafts, to home exercises, quarantine has given us time for some personal improvement. Food is a big part of the new "quarantine culture." With Doordash and Ubereats, there's no need to make anything from scratch. Taking time to perfect culinary can provide a new hobby with savory benefits.
Pinterest moms and curious bakers have taken to online recipes, hoping to find their next project. This is a time where Beginners can learn and test out things they may enjoy, starting off with simple recipes or box-batter brownies. There's time to excel for everyone.
A West Morris Central teacher had also decided to join the trend to cook some amazing new dishes with incredible variety. Mrs. Feltimo, WMC's culinary arts teacher, has taken it upon herself to cook one meal from each state, to try out the different flavors around the U.S. She hasn't quite completed this task yet, but she has decided which she had enjoyed the most and which she had enjoyed the least so far. Mrs. Feltimo states, "I recently made the Halibut topped with crab from Alaska and that was pretty phenomenal". Along with the Halibut and crab, Mrs. F also enjoyed the Texas-style brisket -from Texas, and the chicken and dumplings from West Virginia. Although Mrs. F loves fried food, some of her least favorite dishes were the fried ravioli and the chicken-fried steak. Not all recipes go as planned, and that's okay! Experience and knowledge can be made from trial and error. Cooking is about having fun, experimenting, and taking the time to try things, and quarantine has given us the opportunity to do just that.
When asked why she started cooking these meals, Mrs. Feltimo responded, "At around the middle of the lockdown, maybe May 2020, I was getting very bored of the meals we were eating. So, I thought this would get us out of our funk and eat some new and interesting things." Quarantine provided a good opportunity to try new things, and provided an opportunity to share with others. Mrs. Feltimo has a list of these recipes that she would recommend to others, all of which are perfect for different settings and even just for curiosity:
"If you have the time: TX Brisket (unsmoked)
A quick meal: Shrimp and Grits (South Carolina)
Comfort food: Chicken and Dumplings (West Virginia)
Internationally inspired: Pad Thai (Las Vegas, NV)
On the grill: Grilled Chicken with Alabama White Barbecue Sauce (Alabama)"
Even if you don't have the confidence to try and cook from scratch, using boxed ingredients or recipes can still provide you with the same satisfaction. Boxed recipes can be good in a pinch and provides you comfort while knowing there is almost no-way to mess it up. Mrs. Feltimo isn't opposed to boxed recipes either, but she prefers to have control over her own seasonings because she can taste the preservatives that are used. Her only exception to the box recipes is "Jiffy cornbread! I like to add chile peppers to it, or you can make corn dog bites with it. Fill mini muffin tins half-way with batter, add a blob of ketchup, then stick a 1" piece of hot dog in the center. Bake them off and they are a hit at most parties!" It's good to remember that boxed recipes can be customizable, from adding hot-sauce to Kraft's mac'n'cheese, or putting your own spin on Pillsbury Pastry Puffs. Cooking can be a good form of expression and an outlet with tasty results, whatever way you cook during quarantine it's definitely something that you find enjoyable.
About the Writer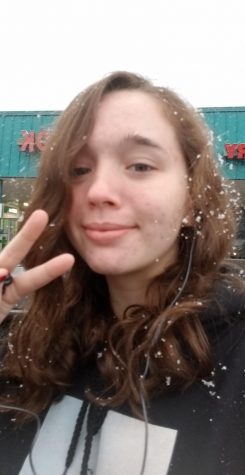 Dana Russell, Entertainment Editor
Dana Russell is a senior editor for the Paw Print and is a Journalism I student. She enjoys reading and writing, her favorite genre is thriller/mystery....