The Essentials of the Georgia Runoff Senate Election
Background
A runoff election, under Georgia law, occurs when no candidate wins more than 50% of the vote. A new vote takes place later. While rare, this law is applicable in both of Georgia's Senate elections this year. 
On January 5, 2021, Reverend Raphael Warnock (Democrat) will face off against Kelly Loeffler (Republican), while Jon Ossoff (Democrat) will challenge incumbent David Perdue (Republican). Early in-person voting began on December 14 while voting by mail and same day in-person voting also remain viable options for many Georgians. 
Not only are these elections highly contentious, but they will sway the future of the country. If both Democrats win their seats, the Senate will be evenly split between the two major parties, making the Vice President, Kamala Harris, the deciding vote. However, if even one of the Republican candidates prevails, Kentucky Republican Mitch McConnell will hold his seat as majority leader. The results of the election could be the difference between an ineffective term for Joe Biden, or one full of progressive change.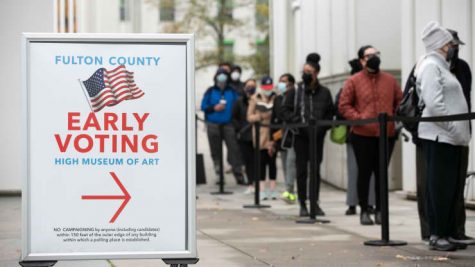 The Candidates
Incumbent Senator David Perdue is a staunch Republican and wealthy former businessman. Perdue is wont to favor Trumpian policies and is among the few that refuse to accept Joe Biden as the President-elect. His campaign has suffered due to the questionable stock trades he made at the beginning of the COVID-19 pandemic, leading to an investigation. He challenges Jon Ossoff.
Jon Ossoff, a filmmaker and Democrat, will face David Perdue. No stranger to Georgian politics, Ossoff lost a tight congressional race in 2017. His name recognition and support from Biden will, as his campaign hopes, get him the win. 
In the other race, Kelly Loeffler, a Republic and Trump fanatic, will run against Reverend Rafael Warnock. She was appointed to her Senate seat one year ago, making this election her first. Similar to Perdue, Loeffler came under fire for her shady stock dealings. She has been further criticized for posing for a picture with a well known KKK leader at a recent campaign event. While she claims she did not know who the person was at the time, she is likely to have alienated many voters with such an action. 
Loeffler's challenger, Reverend Raphael Warnock is the Pastor at Dexter Avenue King Memorial Baptist Church, where Dr. Martin Luther King was once active. While being called radical, these accusations have been baseless. Warnock's politics are largely in keeping with Joe Biden, who has also endorsed him. Representative of a new era of more inclusive politics, Warnock could potentially be the first Black Senator from Georgia. 
Which Way is the Election Leaning:
As of now, the race is highly competitive, making it difficult to determine who will win until the results come in. 
Georgia's being a historically red state will certainly serve the interests of Loeffler and Perdue, but rapid demographic changes, urbanization, and the alienating politics of a Trumpian ideology leave Ossoff and Warnock much to hope for.
Ultimately, both races will come down to voter turnout, especially within each candidate's respective bases.
Leave a Comment