2020 Fashion Trend: DIY Fashion
All the time spent in quarantine in 2020 has left everyone with nothing but time on their hands, and this year many teenagers took to making their own clothing to pass the time. DIY clothing has been around for a while, but this year customizations, and learning how exactly to make pieces of clothing traditionally bought from a unique clothing boutique, became a very popular pass time. Specifically teenagers and young adults with a limited amount of money in their bank account hopped on the trend to both save money, and end up with a super cool, one of a kind, piece of clothing. 
One extremely popular clothing hack that was discovered was being able to buy a pair of $12 men's jeans from Walmart, and turn them into a fashion statement by either painting, bleaching, or cutting them up to have a custom pair of jeans. Typically, to buy a pair of painted or ripped jeans, consumers pay anywhere from $50 to hundreds of dollars, which is completely unnecessary and overpriced for a pair of jeans. This occurrence can lead many to think "I can probably make that." Also, remember all those comments that your grandparents used to make when you wore a pair of jeans with rips in them? Well, this time you can say that you did put the rips in them! 
The DIY customizations did not stop at jeans though, it also played a major role in the shoe category as well. People were buying plain white shoes as a canvas, and adding their own unique style to them by simply using some paint and paint brushes they already had sitting around their house. Some common themes that are used when customizing shoes have been favorite TV shows, sport teams, colleges, or any sort of color blocking that matched their closet. Custom shoes from companies such as Nike and Converse range anywhere from $100-$300 and most people in the world don't have that extra cash to just throw around for a new pair of shoes.  
Along with modifying clothes that already exist, teens also took to making their own clothes from scratch. Some chose to break out their Mom's old sewing machine to stitch some panels of fabric together, whereas some took to crocheting and knitting new clothing and accessories. Anything from tops and cardigans, to headbands and purses were made on a very cheap budget using just yarn and hooks found at any craft store. These pieces have become increasingly popular just in this past year, after crocheting/knitting has been a stereotypical "grandma" activity for many years, teens and young adults have finally hopped on the trend and found it to be a really relaxing and therapeutic activity with a really beautiful end result. 
So, even though 2020 has given us so much more trouble than any of us anticipated, it has inspired people to try out new hobbies and take up a new hobby that benefited both their closet and bank account. Without having so much extra time this year, the DIY clothing trend wouldn't have reached this new level of popularity. 
Leave a Comment
About the Contributor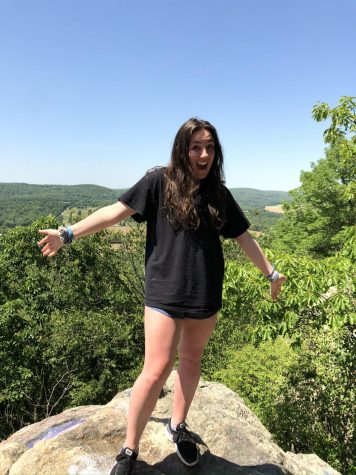 Kristen Hedworth, Staff Writer
Kristen is a Senior at West Morris Central and is very excited to be working on The Paw this year! When not doing schoolwork, you can find her working...