How WMC Celebrated Veterans Day!
On Thursday, November 11, Americans across the country observed the federal holiday Veterans Day – a time to honor and thank those who have served and commemorate the soldiers that have given their service and lives for our country.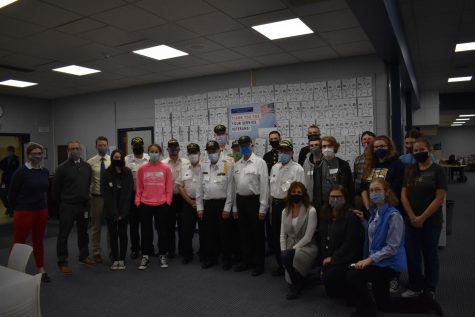 This year at West Morris Central, the History Club, run by Mme. Duddy and Ms. Davis organized a Veterans Day meet and greet. This gave students the opportunity to hear the stories of nine different U.S Army and Navy soldiers who fought in Vietnam and Korea, as well as those that served their time stationed in the U.S.. As the event was held at lunchtime, snacks and refreshments were provided for staff and students to enjoy while they listened to the compelling stories of the veterans. Additionally, the drum line and the chorus performed, creating a very special event and a welcoming environment to the veterans who were gracious enough to speak at West Morris Central. 
In an interview with veteran John Larkin, he shared that he has visited many schools across the township and it means a lot for him to be able to tell young people about his experiences and meet new people. He hoped a lesson students would take away from the visit was the importance of a "good work ethic"–not necessarily just for the military but for what people are individually passionate for. Larkin's own children graduated from West Morris Central and two out of three of them went on to the academies to eventually join the military, following in the footsteps of their father. 
Also in attendance at the luncheon was U.S Army Veteran Tom Holden who enlisted in the U.S Army in February of 1966 and served in Vietnam from 1966 to 1967. After serving in the military, his perceptions of the importance of college education changed and he chose to attend Fairleigh Dickinson University in 1968.  Students were able to hear stories like these and more from the veterans that were present.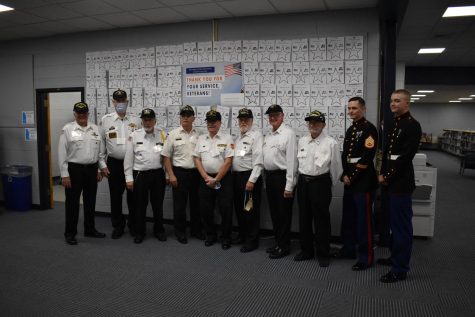 Ms. Davis explained that last year, a Google Meet was held for veterans to share their experiences virtually, as the school could not offer in-person assemblies due to the pandemic. Prior to COVID and Ms. Davis' joining of the history club, veterans attended the school to present to classes individually, rather than giving students the option to drop in and listen to brief tellings of retired servicemen. Ms. Davis hoped that students would appreciate and learn new information about the various branches of the military as well as how the veterans had first joined the military.. Ms. Davis was also the creator of the "Wall of Stars"– a wall in the library showcasing the names of various veterans that Central students have a connection to. Central is grateful for the History Club's contributions and hopes to be able to do something similar next year!
Leave a Comment