WMC's Masked Singer
Lighting, check. Sound, check. Masks, check. Last Friday night West Morris Central held its very own live masked singer event. Hosted by Juniors Haille Mark and Gavin Brophy, the event was a chance for students to showcase their singing abilities while also raising money for good causes. Inspired by Fox's "The Masked Singer," contestants dressed in costumes to mask their identities and performed while the audience and judges got to guess who was who. For the WMC event, the audience was allowed to vote on a google form for their favorite singer during intermission. Afterward, they were unmasked one by one and the winner of the competition was revealed.
  According to Mark, the masked singer was actually the choral director, Mr. Stingle's idea. Tickets were sold for $5.00 for students and $10.00 for everyone else during lunch. All the proceeds were split between Mallory's Army and Goryeb Children's Hospital, two very special causes for the coordinators. Mark said, "Mallory's Army was picked, for me at least, because depression is an epidemic among kids our age, and anything we can do to help is worth it. We decided to split those proceeds with Goryeb Children's Hospital because of their work with children with cancer. One of my closest friends died of Leukemia, but before that, Goryeb had helped her and she was in remission for a few months. I wanted to give back. "
However, before the event could happen, hosts Mark and Brophy had lots of hard work to do. They had to gather teachers to judge, students to help with sound, lighting, and concessions, and volunteers to perform, all on top of approval from the administration. Luckily, there were just the right amount of students for the job. Baylor Tumminelli did sound, and Jacob Cubbage programmed lights with Elizabeth Paolella actually doing the lights the night of. Gabby Flynn provided an extra helping hand and Astrid Hughes, Erin Thomas, and Maiju Hoerning all made concessions. For the judges, Mark said that "We chose Mr. Hennelly and Mr. Frayne primarily because they're my throwing coaches. They're also really funny people. Mr. Togno was a late addition that they brought, who was also very grateful. Mr. Stingle was another obvious choice, he's the choir teacher. We're very thankful for all of our judges and they all did a great job."
Any student could audition to perform, the only requirement was a costume to mask their identities. The night of, along with humorous hosting from Brophy and Mark, each performer sang a song of their choosing and showed off their creative costumes. First up was Calico, decked out in a cat mask and ears with some beach-themed gear to add extra flare. Cruising around on stage in their sandals and lei, Calico energized the audience with an upbeat performance of "Sunkissed" by Khai Dreams. Next up, was  The Ghost, veiled in a white sheet to resemble a spooky spirit. Right on theme with their costume, they performed a song titled "All My Ghosts" by Lizzy McAlpine. Third on the stage was The Flower, who performed a more mellow and touching song, "Rainbow" by Kasey Musgraves. To reflect the lyrics of the song, The Flower, wearing a floral mask, was accompanied by colorful rainbow lights which gave the stage a dreamy appearance. Keeping the gentle vibe going was The Cheetah performing "Runaway" by Aurora. Costumed in a comfy cheetah print onesie and feline mask, their voice had the audience captivated. Following after was The Doctor, who resourcefully used a surgical mask to cover part of their face, and dressed up as a medical professional. Singing a softer rendition of "Creep" by Radiohead. Last but not least, Havoc. Wearing a paper bag as a mask, this creative performer sang "Devil" Town by Cavetown.
After each singer put their best foot (or paw) forward, it was time for the audience to vote on which singer they liked best. While the audience voted using QR codes posted around the auditorium, concessions were sold as well as candy wishes for the performers. After about 10 minutes, everyone went back to their seats and waited with anticipation to see each singer unmasked. Coming in the last three places (in no particular order) was The Ghost- Aoife Bell, Havoc- Sydney Daum, and Calico- Jeremy Timog. In third place was The Flower, revealed to be Addy Conner. Second place, The Cheetah played by Brianna Lugo. And finally, it was time to reveal the winner of West Morris Central's Masked Singer. With the audience giving a drum roll, The Doctor took off their disguise and was revealed to be Ava Novella! The audience gave enthusiastic applause to all those who participated while the singers took their bows. With a smooth show and amazing performances all around, it looks like the WMC Masked Singer was a success raising over $1,000!
Leave a Comment
About the Contributor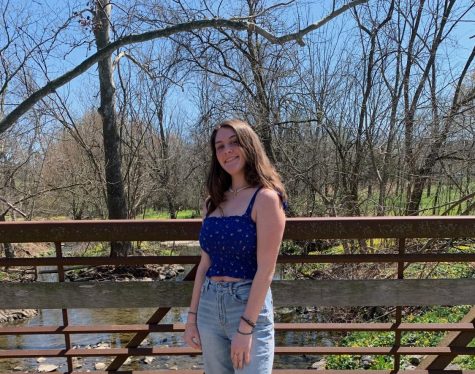 Caroline Miller, Staff Writer
As a senior at West Morris Central, Caroline Miller is making her debut as a staff writer for The Paw. She frequently participates in extracurriculars...