Bladee – Icedancer Review
Bladee is one of few artists who has managed to create a distinct sound, with heavenly and dreamy instrumentals, playing behind heavily autotuned vocals. Along with his friends and collaborators a part of the Drain Gang collective, this sound was created, categorized as emo cloud rap. The aura and sound of their work is so unique, and once used to it, you just can't get enough of it. With this project, his art is more addictive than ever.
On December 28th, 2018, Bladee put out his highly praised mixtape Icedancer. Executively produced by RipSquadd, this includes some of his most popular and well-received work in his discography. This project's instrumentals are quite unique and easy to enjoy, as they evoke a spacey and levitating feel. The lyrical content is intriguing, with topics of sadness and heartbreak, as well as boasting about his fortune and wealth, all unexpectedly mixing well. This is showcased starting with "SmartWater," containing lyrics like "walk around with dirty Pradas," and "just let me try one time," which displays his money bragging and desperate statements. Other tracks have a stronger focus on his "flexing" of wealth, like on "Be Nice 2 Me," with the lyrics "I broke my wrist, I gotta ice it," which has a double meaning of him hurting his wrist and needing to ice it, but also having ice on his wrist, meaning diamond jewelry. Across the tracklist, the choruses and vocal melodies are infectiously catchy, and, simply put, fun to listen to. Despite his personal struggles that he touches on, he finds solace in his music through sharing his vulnerability and his overflowing wallet. To the untrained ear, this style is quite odd, and seems to lack talent. Over time, though, listeners will realize the creativity and silliness of this project, and it becomes surprisingly entertaining. All in all, Icedancer showcases some of Bladee's finest work, and contains a plethora of emotions, giving something to be enjoyed for all listeners.
Leave a Comment
About the Contributor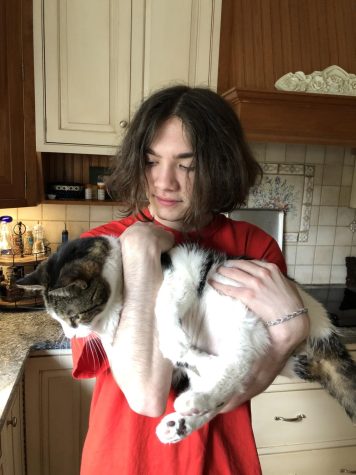 Nicolas Bandille, Staff Writer
Nick Bandille is a sophomore, covering news and information for The Paw. During his free time, he enjoys listening to music, playing video games, along...