2022 College Football Heisman Hopeful
The most coveted award in all of collegiate sports may be the Heisman Trophy. This award goes to the best overall player in all of college football. It is the equivalent of winning the MVP (Most Valuable Player) at the professional level. Although it is mostly QB oriented, as that position is very important, there are other players both offensively and defensively that are recognized. Going into week seven of college football season, the following players have been recognized for their ability to use their elite-level talents to help their team win.
CJ Stroud (QB, Ohio State)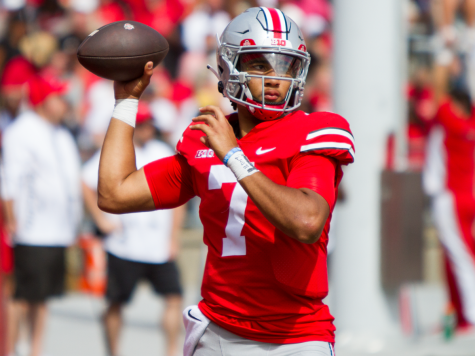 The sophomore Ohio State quarterback has been lighting it up this season as he has passed for 1,737 yards and 24 touchdowns with a 70% completion percentage. Although the whole offense started off slow against Notre Dame in week one, specifically Stroud, they both hit their stride the next week and continued it the following weeks. Stroud has been averaging 4 touchdown passes per game along with 289.5 passing yards per game. He has led his team to an undefeated season so far at 6-0, and is looking forward to continuing that trend all the way to the College Football Playoff.
Hendon Hooker (QB, Tennessee)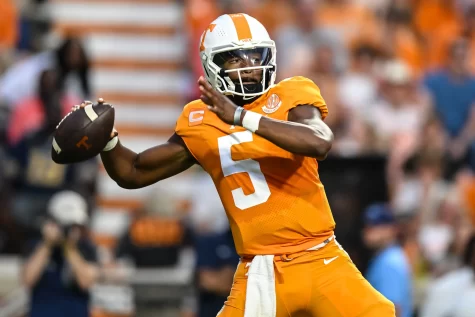 The senior Tennessee Volunteers quarterback has been the answer this team has been looking for. Being in the SEC is already hard enough due to their elite competition, but to lead a team to an undefeated start with a record of 6-0, is truly special. Hooker has taken the leader role on the team and delivered when needed. He has passed for 1,817 yards, and 15 touchdowns, while also being highly efficient by completing 70% of his passes. He may have already had his 'Heisman Moment' by beating Alabama this week 52-49, which hadn't been done in Tennessee since 2006. He passed for a career-high in touchdowns with 5 and put up the most points against Alabama since 1907. Tennessee is definitely in the race for the College Football Playoff and SEC Championship. Hooker will be watched closely as the weeks go by as his team meets more tests, but he is definitely proved to be a top candidate for the award.
Bryce Young (QB, Alabama)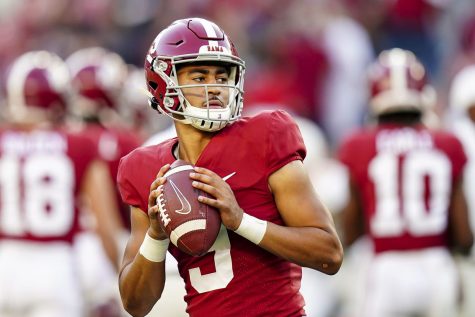 Sophomore quarterback Bryce Young is truly a generational talent. He was the second player ever in the history of the game to win this award as a freshman. Knowing this, he is definitely a favorite to win it again. However, his season hit a speed bump when he injured his shoulder and missed the rest of the Arkansas game and the entire Texas A&M game. He came back this past week and showed why he is one of the best to play the position. So far this season he has passed for 1,657 yards and 16 touchdowns, with a completion percentage of 67%. He passes the eye-test without a doubt due to his incredible IQ, elusiveness, and calmness under pressure. The quarterback position is seen as the leader of the team, and it is comforting for Alabama players to turn to such a calm and collected player like Bryce Young. Alabama took their first loss of the season this past week, but they are still contenders for the playoff with Young at the helm.
Caleb Williams (QB, USC)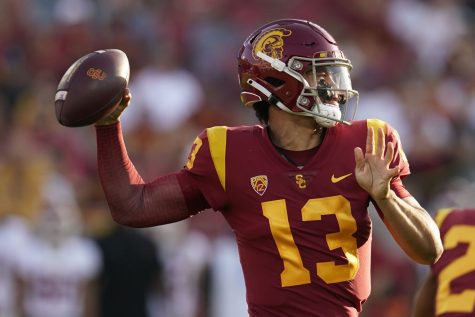 Entering his sophomore year, Caleb Williams made the decision to go with Lincoln Riley from Oklahoma to the USC Trojans. With the year of the transfer in College Football, Williams took advantage and has bloomed in Southern California with 1,971 passing yards, 19 touchdowns, and completing 63% of his passes. He led USC to their best start since 2006 after beating Washington State, however, the following week was a step-back with a loss against a good Utah team. This loss will only be a bloop in the past if the team can beat UCLA later in the year. The Pac-12 is wide open for him and his team to take along with the College Football Playoff. If he can get his team to that position, he would without a doubt see the Heisman Trophy right in front of him.
Dorian Thompson-Robinson (QB, UCLA)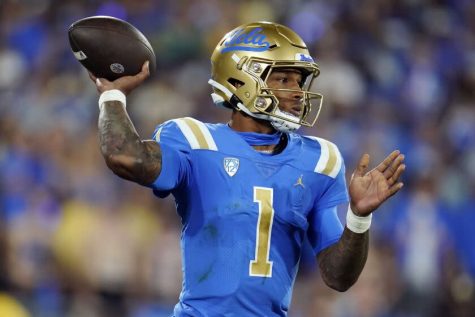 Fifth year senior Dorian Thomspon-Robinson (DTR), has been an incredible player over the past couple of years. Last year he was excellent by passing for 2,409 yards and 21 touchdowns, but what is truly remarkable is his athleticism. His ability to make defenders miss by juking or even hurdling has been jaw-dropping to watch. UCLA hasn't been known for their football in the past decade, but DTR has been able to bring them back to relevance. They have climbed to 9th in the AP poll, with their (6-0) start. In their two biggest games so far this season, Thompson-Robinson has passed for 614 yards and thrown 7 touchdowns, which shows the stage isn't too bright for him. If he continues to lead this team like he can, DTR may find himself with many trophies in his hands.
Leave a Comment
About the Contributor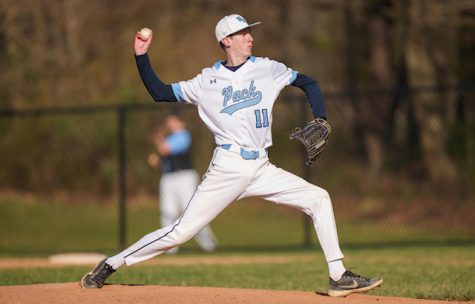 James Cleary, Staff Writer
James is a junior at West Morris Central. This is his first year writing for The Paw and he is excited to cover all things sports, whether it be professional...