Who is WMC's 2022 Teacher of the Year? 
At the end of every calendar year, one member of the WMC staff is recognized as the New Jersey District of Education (NJDOE) Governor's Educator of the Year. The winner for the 2022-23 school year was nominated by their colleagues and then selected by a panel of WMC staff, parents, coordinators, building administrators, and district supervisors for outstanding performance in the following five categories: 
Skill and dedication

Ability to inspire students

Demonstrates leadership and innovation in and out of the classroom

Respected and admired by students, parents, administrators, and colleagues

Actively collaborates with various groups in the school community to promote a culture of respect and success. 
This year's recipient is Mrs. Feltmann.
Mrs. Feltmann has been a teacher for 19 years. When asked what her favorite part about being a teacher is she replied,  "getting to work with students every single day. I love being in the classroom and I love the learning process. Kids teach me every day and even if I have taught a lesson so many times, each time the different personalities in the room always make it interesting and keep me on my toes." At WMC, she teaches IB Psychology, IB Research Methods and Psychology, Personal and Professional Skills 11 and 12, and in the past she has taught Human Behavior. Senior Alexa Murawski noted, "Her psychology class is challenging, but rewarding. She makes it very interactive and engaging." 
Mrs. Feltmann is also the IB coordinator for the Career-Related Program (CP). Feltmann shared, "I love that CP helps students find their passion and I love how it sparks an interest in them and it helps them figure themselves out while they're at WMC so they can do amazing things in the future." Within the program Mrs. Feltmann is responsible for creating schedules, mentoring students through different projects, proctoring IB tests, and more. Senior Peter Howell remarked, "Mrs. Feltman has always gone out of her way to help me with the IB program.  If I am ever struggling, whether it's with the reflective project or needing to set up a meeting, she is always communicating with me about what I need to do in order to help me fulfill all the requirements." 
When asked what it meant to win this award she shared, "It is incredibly humbling because I work with an amazing faculty and staff who are an amazing inspiration to me, and my greatest supporters." Mrs. Feltman stands out among other faculty members because of her ability to inspire her students. She stated, "I want to point out my students and celebrate their successes with them." She continued, "In order for great learning to happen, connection is essential. Students have to connect to the material and see its relevance and how it affects them. Senior Alexis Lang said, "I have had Mrs. Feltmann for two years now and she has helped me find a passion for psychology." This is just one example of how Mrs. Feltmann leaves such a positive impact on the lives of her students. 
The Paw would like to congratulate Mrs. Feltmann on her outstanding achievement!
Leave a Comment
About the Writer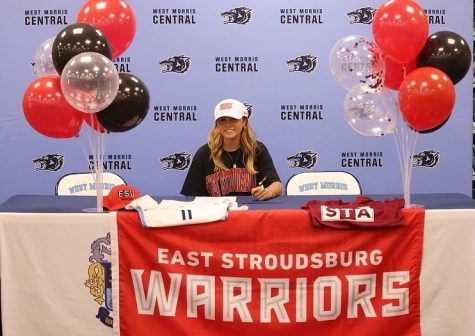 Maddie Lamb, Editor-in-Chief
Maddie Lamb is a senior here at West Morris Central. This is her second year writing for The Paw and wants to continue to write about school and sports...