Who Is the Real George Santos?
The 34-year-old politician George Santos is not who he claims to be. This past November, Republican congressman George Santos ran for New York's third congressional district. His resume was surprisingly impressive because of his qualifications but it was later found that these qualifications were false. According to Georgeforny.com, his campaign included a biography stating, "His grandparents fled Jewish persecution in Ukraine, settled in Belgium, and again fled persecution during WWII, before settling in Brazil. His Brazilian-born parents eventually immigrated to the US in search of the American dream." Santos additionally claimed he attended Baruch College hence having impressive financial education, and that he is open about being a member of the LGBTQ+ community. However, this information was all but accurate.
News outlets such as the New York Times looked more into his curricular vitae and found no evidence of anything he said. Despite Santo's claims of being a proud American Jew, outside news sources have found no evidence of his grandparents fleeing anti-Semitic Europe or being Jewish. According to NBC News, "Santos, who made LGBTQ political history when he won the November race in New York's 3rd Congressional District, which covers parts of Long Island and Queens, admitted to what he described as 'overstat[ing]' and 'embellishing' his qualifications in at least three interviews Monday." Santos then claimed he never graduated from Baruch college in an interview with the New York Post. He openly admitted to embellishing his resume saying "we all do stupid things in life." 
No further legal action was taken however there was obvious aggravation among political candidates. Many of Santos's supporters claimed that since lying is not against the law,  no legal action can be taken. Why George Santos decided to lie about his past is unknown, other than building up his political background. The public remains suspicious as to what his motives were, although it did not affect his political path. Despite the wall of lies, George Santos was still determined to win the congressional spot. On January 7, 2023, following all of the lies, Santos was successfully sworn in, officially making him a member of Congress. He is currently involved in at least three different criminal investigations, as investigators are trying to crack down on who he is behind the mask. It is unclear how Santos is spending his time now that he has been working in the capital.
The New York Post has been reporting on his recent behavior in the Capital observing, "In his first few days in the Capitol Building, Santos has been given the cold shoulder by most lawmakers. He has mostly been seen sitting alone and rarely has interacted with any of his new colleagues." Santos may have gotten the political position he wanted, however, he will certainly not be making friendships along the way. What may seem to be a little white lie can add up to something much more significant. It will be interesting to see how the ongoing criminal investigations play out, as George Santos might not even be his real name. 
Leave a Comment
About the Contributor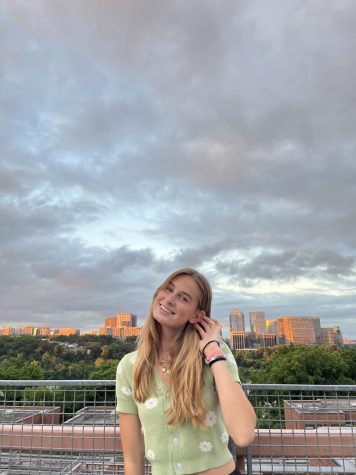 Eliza Olsen, World News Editor
Eliza is a sophomore at WMC. This is her first year writing for The Paw. She is involved in soccer and track. Eliza is interested in covering recent events...