Michael Campanaro Earns 100 Wins
West Morris wrestling history was made by senior captain Michael Campanaro. He joined a small group of elite wrestlers who have earned 100 wins in their careers. Campanaro is the tenth wrestler in WMC history to reach this milestone. 
He claimed this coveted statistic when the team wrestled Montville last Saturday, where he also picked up wins 101 and 102. His freshman season he recorded 37 wins. He won 12 matches his sophomore year, which occurred in the middle of the COVID-19 pandemic. He won another 32 matches his junior year, and thus far during his senior season has recorded 22 wins. 
Coach Marold stated "Michael is a huge influence on the team. He has always been a good wrestler but this year he's really stepped up his leadership ability. He has become an overall better wrestler."
Campanaro stated that "To earn 100 wins, as big an accomplishment as it may seem, it's just another win to me." He had set this goal for himself coming into high school because there is such a small number of wrestlers in the 100 win club at WMC.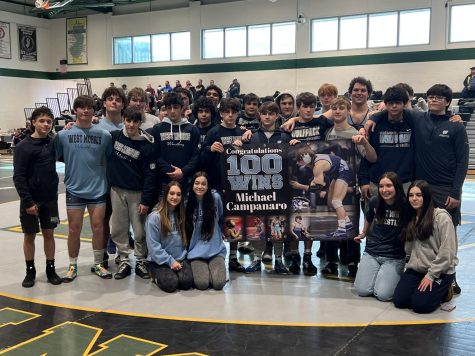 Contrary to what some might expect, Campanaro said that he treated this like any other match. "Before the match I did my normal routine of pacing back and forth, trying to feel loose, and getting my mind right… I was locked in." And following the celebration with his family and teammates it was on to focusing on the next match.  He stated that this win doesn't do much other than "let me know I gotta keep going and not dwell on having a set number of wins."
Wrestling during COVID impacted Campanaro's career as it did most athletes. He shared "I was on pace to break the school record of 144 wins, but a shortened covid season my sophomore year had stripped me from doing that." During his sophomore season, he had almost a third of a full season in terms of matches. However, he views it more as a learning experience rather than a hindrance. He stated "it was a great learning experience to teach me that the season could've just never happened and to be grateful that I have the privilege to do what I love everyday."
The next thing Campanaro wants to accomplish is "to win the county tournament and get some matches back that I lost last year." Coach Marold said "I'm excited to see where he ends up. He has had some injuries sideline him come the end of the season and I'd like to see him finally get on the podium cause I think he could've done it as a sophomore and a junior had he stayed healthy. I am hoping that he stays healthy so he can finally show everyone how good he really is."
On behalf of The Paw we congratulate Michael Campanaro on his great achievement!
Leave a Comment
About the Contributor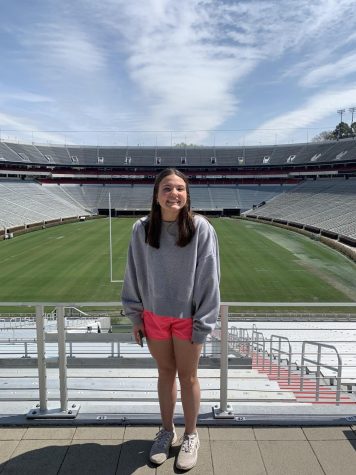 Lizzie Rubright, Sports Editor
Lizzie is a senior and in her third and final year writing for The Paw. Lizzie loves all things sports: watching them, playing them and especially writing...