West Morris Central Welcomes Irish Camogie Team
On Thursday, April 27th, seventeen students from Portlaw, Ireland made a visit to our hometown of Long Valley, New Jersey. These students are part of a Camogie team back in Ireland. Camogie is a female Hurling team played with an Irish stick-and-ball. The girls came from the village of Portlaw in County Waterford, Ireland, with a population of approximately 1500 people. 
This was a memorable trip for the girls, as many had never even been to the United States. The girls had a packed schedule when they came to visit, as they were able to learn about our school and curriculum, along with visiting fun destinations on the East Coast!
  The students landed on Thursday, April 27, and attended the welcome reception at the home of one of the coordinators, Phil Hennebry. There, they met their host families. On Friday, April 28th, the girls visited West Morris Central! Here, they learned the structure of our curriculum and schedule, and we later learned how to play their home sport, Camogie. Camogie is very similar to lacrosse, as a stick and ball is used. On Saturday, the girls had a very exciting visit to New York City ahead of them. On Sunday, the girls said their goodbyes to their host families in Long Valley and spent the night at Camelback Resort in the Poconos. 
The trip was organized by Phil Hennebry, a former resident of the village and current resident of Long Valley. He contacted Mr. Ferrari, WMC's director of school counseling, who then reached out to the advisor of the International Cultural Art Club, Mrs. Olsen. These people, as well as the host families, helped organize the visit, making it a successful experience for all. 
The girls had a memorable experience visiting the States. Abbie Burrows, one of the students who visited, really enjoyed her trip. She felt that everyone was welcoming. What she felt was different between her school and ours was the phones, as "there are no phones allowed in my school." Additionally, students have to wear uniforms when attending. Their schedule differs too, as their school day runs from  8:55 am -3:45 pm. One of her favorite memories here in Long Valley was experiencing how the host families spent their time. She felt it was an "unreal" experience and would definitely come back.
Leave a Comment
About the Writer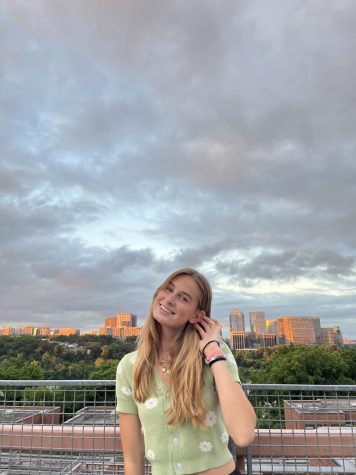 Eliza Olsen, World News Editor
Eliza is a sophomore at WMC. This is her first year writing for The Paw. She is involved in soccer and track. Eliza is interested in covering recent events...