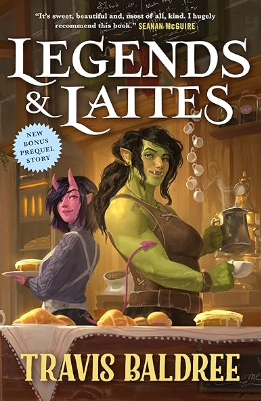 Although high fantasy is a genre typically known for its intense battles, in the novel Legends & Lattes, orcs aren't found in the midst of magical duels, but rather brewing coffee. Advertised as "a novel of high fantasy and low stakes," it follows the journey of Viv, a formerly-fierce orc who hangs up her sword for good in order to pursue her dream of opening a coffee shop, hiring a variety of magical creatures along the way. Legends & Lattes was originally written by Travis Baldree in 2021 as a part of NaNoWriMo, a challenge in which participants attempt to write a 50,000 word novel over the course of a single month. It was initially self-published on Amazon, but later published by the popular fantasy-oriented publishing house Tor Books. Legends & Lattes is a short and sweet work of fiction that, despite its flaws, allows readers to escape into a comforting, perfect world.
The most endearing part of this unique novel is its cast of characters. Readers immediately are drawn to root for Viv who, despite her magical biology, stands as a relatable character for those who wish to reinvent themselves and better their quality of life. She soon befriends Cal, a hob with an affinity for construction, whose generosity that he attempts to hide in sarcasm makes him a lovable addition to the cast. Her partner, Tandri, a succubus, compliments Viv's personality perfectly with her strong will and tough love. Thimble, a shy baker, and Pendry, a musician whose timid nature contrasts sharply with his massive size, are also impossible not to adore. The characters hold the reader's attention despite the slow plot – its central themes, after all, are focused on the power of friendship. However, this means that Legends & Lattes is not for those who are interested in plot-driven books.
However, many details are left underdeveloped. The events of the backstories of the characters are only briefly mentioned and remain largely a mystery throughout the novel even though their importance is frequently mentioned and the characters appear to be deeply affected by them. They reveal vague feelings surrounding them, but few concrete details are given. Still, there is a companion short story found in newer editions of the book and an upcoming prequel (Bookshops & Bonedust) that focus on Viv's life prior to the novel's beginning, so these backstories are not entirely unable to be understood, just missing from the novel itself.
Additionally, the magic system seems a bit underdeveloped. There is an entire magic academy nearby the coffee shop, but the reader is only introduced to three of its students and is never able to fully understand why it is there or how the magic works. Magic only appears when it is convenient to the story in rapidly and seamlessly solving problems that occur. Still, the swift conflict resolution gives the reader comfort in how starkly it contrasts to their more uncertain world, so the choice to format the story in this way is not unjustified.
The cozy atmosphere and heartwarming themes of Legends & Lattes are the perfect companion to a cool fall evening spent reading and drinking a latte of the reader's own, as long as that reader is more interested in the characters than the plot!