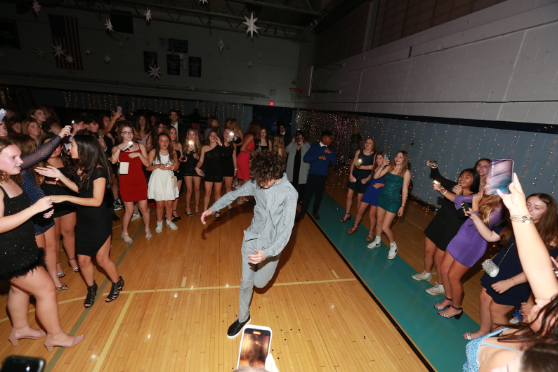 On October 14, 2023, a long-awaited event concluded West Morris Central's fun-filled Homecoming Spirit Week.  By popular demand, the Homecoming Dance was reintroduced to WMC this year, as it had been quite a number of years since the school had held one. The WMC student and class councils, along with school faculty and administration believed that this school year presented the perfect time to bring back the Homecoming Dance. It was a perfect way to not only boost school spirit, but also gave students a night to remember.
The West Morris Central Student Council, as well as the four class councils, took a strong initiative in bringing the student body's ideas for the dance into fruition and making it as memorable of an experience as possible for all in attendance. After years of their proposal for a Homecoming Dance being put on hold by administration, the student government was absolutely thrilled that the dance would be able to take place this school year. "Ever since I've been at WMC, so many people have talked about wanting a Homecoming Dance just like other schools in our area," says Sarah DiGabriele, Secretary for the Class of 2025. "The student council worked to bring it back this year by popular demand." 
Since the end of the 2022-2023 school year, the student and class councils have dedicated countless hours (and especially lunch periods) to pulling the dance together. Their responsibilities ranged from promoting the dance on their respective class Instagram pages to making decorations that would be displayed in the auxiliary gym, where the dance was primarily being held. Additionally, the student government also played a critical role in successful ticket sales for the event, selling just over four hundred tickets. "The best part of the whole process was seeing everyone having a great time on the dance floor," DiGabriele stated. "At that point, I knew that all of our hard work had paid off."
The WMC Counseling Department also played a crucial role in the revival of the Homecoming Dance. Guidance counselors and student council advisors Mrs. Shaffer and Ms. Donnelly were especially helpful throughout the planning process, collecting the necessary waivers needed for students to attend the dance and organizing the student government's spreadsheet that kept record of all their ticket sales. 
Mrs. Shaffer and Mrs. Donnelly also helped to ensure that everything was running smoothly the night of the dance and that students were enjoying themselves. "At the end of the day, everyone seemed to be excited about the dance and I was happy to see such high attendance," says Mrs. Shaffer. "I can definitely see the Homecoming Dance becoming a tradition at WMC for years to come if students continue having such a great time with it."