Pelicans Looking to Take out Warriors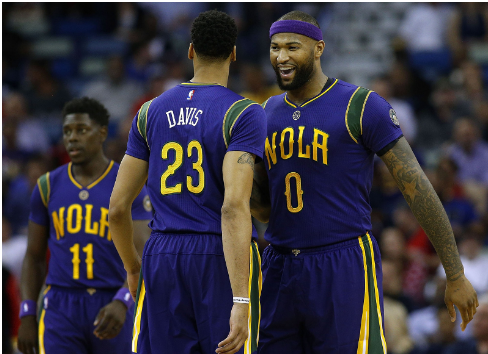 Hang on for a minute...we're trying to find some more stories you might like.
The New Orleans Pelicans are making moves in order to dethrone the Warriors from being Western Conference Champs.
The Pelicans are currently sitting 4 games out of the 8th seed in the west, but their deadline acquisition should help that.
They were able to trade for the most dominant center in today's game in Demarcus (Boogie) Cousins, to pair with the best young big man in the league, Anthony Davis.
Having these two stars big men on the team will help to combat the Warriors small, three point shooting lineup.
The duo are averaging 11.8 and 10.7 rebounds respectively ranking 7th and 11th in the league, while the highest Warrior, Kevin Durant, is in 20th with just 8.4.
Also, among power forwards, Anthony Davis ranks 1st in points per game with 28.1, while the Warriors, Draymond Green places 26, with 10 points per game.
Then Boogie ranks 1st among centers, with 27.6 points per game and the best Warrior is Javale Mcgee, ranking 35th with 6.1 points per game (Espn.com).
This mismatch with the big men will prove to be a huge problem for the Warriors as they would struggle to contain just one of those stars, let alone both.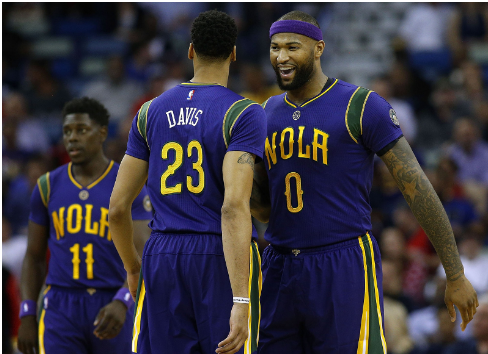 The defensive prowess of Anthony Davis, coupled with the offensive playmaking ability of Boogie Cousins makes them an ideal duo to play together.
Being that they are each used to being the only star on a team with subpar talent they will need time to gel but the trade was heavily in favor of the Pelicans.
The trade sends Cousins, 26, and forward Omri Casspi to New Orleans, and the Kings got back guard Buddy Hield, guard/forward Tyreke Evans, guard Langston Galloway and 2017 first- and second-round picks.
ESPN First Take's Stephen A. Smith weighed in on the trade saying, "A heist took place last night, and the Sacramento Kings should be ashamed of themselves."
He went on to explain that it is an atrocity to give up the best center in basketball in return for what they got, even if they didn't want to pay him how much he was asking for.
However, the Pelicans capitalized on this opportunity and brought themselves into position to snag the 8th seed and give the Warriors a run for their money.
Si.com