Class of 2020 : The One to See it All
If there was one word to describe 2020 so far, it would have to be: wow. The Coronavirus has taken its toll and has changed the way we live our daily lives and probably will affect life permanently.
The Class of 2020 has definitely seen it all up to this point. It's been an interesting four years and some we won't forget. So, here are some of the weirdest and most bizarre trends and events that have happened during our four years at West Morris.
Clown Sightings – 2016
For me, this gave me chills. Clowns are one of my biggest fears for some reason and when I found out they were in the streets, it was a nightmare. But, clowns began lurking on the streets. It began in late august in 2016 when two boys reported seeing a clown who was trying to lure them into the woods. From there, clowns began to pop up everywhere. It seemed like a harmless joke at first because the clowns weren't doing anything to harm who they were terrorizing. They would pop out of corn fields and the woods to scare people passing by. But then it got out of hand. Clowns began touching people and trying to pull them into the woods, causing arrests. After a couple of months the trend died down and we have yet to see Sprinkles or Perrywinkle come out. Maybe a return in 2020?
Pokemon Go – 2016
The classic game most of us grew up on made a huge comeback in 2016 with their mobile game Pokemon Go. Pokemon Go allows the player to walk around in real life and discover pokemon for them to catch. It was also perfect timing for the game to be released as well. The game was released right in the middle of the summer, so it was perfect for everyone who loves to go outside. The game made people walk around for miles and miles just to find a Pikachu, so now people were getting exercise. People playing the game also began making new friends. The game overall connected the world in a weird, yet effective way to show you can have fun by just walking.
Here's a video to show just how much of an impact Pokemon Go had : https://youtu.be/7sXJTRltbpM
Water Bottle Flipping – 2016
Water bottle flipping became popular in 2016 and everyone was doing it. Water bottle flipping is when you leave enough water for it to perfectly do a flip. Although it seemed simple enough, people made it much more complex and challenging. The bottle flipping trend became a worldwide phenomenon. You name it, someone flipped from there. It died down later in 2017 as do most trends, but who would've thought flipping a bottle would be so big? Here, I linked a video of the group Dude Perfect doing bottle flipping trick shots, check it out: https://www.youtube.com/watch?v=hfzSedylBog&t=1s
Fidget Spinners – 2017
Fidget spinners became extremely popular in 2017, but unlike some of the rest on the list, the toy was actually created in 1993. The real use of a fidget spinner is to help people focus, relieve anxiety and help with psychological stress. In 2017, however, the trend didn't use them like that. People began buying the toy and began using them everywhere. While some actually did use it for it's real purpose, people bought them to hop on the trend. Toy companies saw this as a huge opportunity to grow their business, so different variations of the normal three-circled spinner were created. The toy became so popular that school districts across the US began banning the toy because they were a huge distraction in the classroom. Kind of ironic considering they're supposed to help focus people… .The trend eventually died out in a couple months, but definitely was a bizarre one.
Fortnite – 2018
I don't think the world ever saw a takeover like Fortnite. The game exploded 2018 and for months it kept its stand as the #1 video game. For those of you not familiar with the game, Fortnite is a first person shooter game. You're in a match with about 90 other players and you have the opportunity to play solo, duos or squads. It was most popular with kids and teenagers who made it their daily routine to come home from school and play all day. Epic Games became huge because of the amount of popularity it gained, and they even shut down their other game Paragon to focus on making Fortnite the best it could be. The game eventually lost its popularity but is still very popular today. What made this game so unique was it's emotes. In the game, you can unlock different emotes based on completing goals. These taunts are from real life, like "Carlton's Dance" from Fresh Prince of Bel Air or "The Floss". Kids around the world began to do the dances everywhere and anywhere. Epic Games did have an issue with the emotes and the creators of them, but that was later resolved. Just goes to show a video game has the potential to change the world and daily life.
Storm Area 51 – 2019
Well… I don't really know what to say about this one. Sure, it's a good concept to see what goes on at Area 51, but to raid it? I guess nobody thought to ask nicely.
The Area 51 raid began as a Facebook event created by Matty Roberts on September 20th. Roberts only posted it to be a joke, but millions of people responded with "going" so he saw his joek turn into a reality. The event caught the media's attention and it was soon known worldwide that people were going to get into Area 51. On the planned day of the raid, only about 150 people actually showed up to enter, but none were successful. Days prior, there were about 1,500-2,000 people who attended the two music festivals held before the raid. The people were warned days before the event about trespassing violations, so that might have made people not want to go.
Sports Put on Hold – 2020
For all of us sports fanatics, this one hurt. Due to the coronavirus, all professional sports were immediately shut down for health concerns of the fans and players. This has not happened in a long time and certainly not in our lifetime. What stings fanatics even more is that the playoffs for some leagues were right around the corner. The NHL and NBA both had about three weeks to go until their playoffs began. As of right now, every league has been put on pause and won't be able to play until it is safe to do so. There have been possibilities of sports returning in June or July without no fans, but it's too early to set a date yet due to the unpredictability of the pandemic.
NFL Virtual Draft – 2020
The NFL Draft is known for honoring those who have been selected top overall by having them walk the stage to shake hands with Commissioner Roger Goodell and be on tv. This year, however, it's a little different setup. The 2020 NFL Draft was planned to be in Las Vegas, Nevada, but with the national pandemic, the NFL has moved to Plan B. This year, the draft was televised, but it was done from the Commissioner's own basement. For the players, they weren't able to walk the stage, but they were able to be with their immediate family to enjoy the special moment of being selected to play professional football.
The event went very smooth and there seemed to be no kinks along the way. Roughly 15.6 million people watched the Draft this year. That number is about 37% better than 2019's viewer count. The NFL also hosted a Draft-A-Thon to help raise money to support COVID-19 relief. The Draft-A-Thon raised over 100 million dollars that will go to hospitals and food banks struggling to provide for their communities.
Leave a Comment
About the Contributor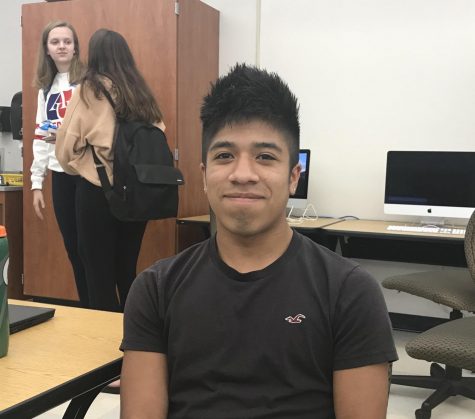 Michael Vanko, Sports Editor
 Michael Vanko is a senior at West Morris Central. He is one of the sports editors for The Paw. Michael runs cross country for the school in the fall...