Title IX Turns 50!
Title IX is turning 50 this year. After being passed in 1972, Title IX has protected women from sex-based discrimination in any school or other federally funded programs which has impacted the world of women's organized sports. Athletics are considered to be an educational program and activity therefore Title IX applies. For the past 50 years it has allowed women to participate in sports, have equal playing opportunity and protect women's athletic programs. Since Title IX was enacted, the participation in sports by school-age girls has increased from 1 in 27 to 2 in 5 as per the women's sports foundation. Today women make up 44i of NCAA student athletes.
Female athletes now have the opportunity to earn money because of the new name image and likeness laws in the NCAA. Many athletes have taken advantage of this opportunity such as Paige Buckers who has an endorsement deal with Gatorade, Fresno State Women's Basketball players Haley and Hanna Cavinder have deals with Boost Mobile and Six Star Pro Nutrition and Olivia Dunn LSU gymnast has signed deals with American Eagle, Plantfuel and Vuori. Title IX allows the playing field to be equal but because of differences in media exposure male athletes hold 59% of NIL deals as per INFLCR.
Women such as Sarah Fuller have left their mark on the male dominated sports world thanks to Title IX. In 2020 Fuller became the first female to play in a major college football game. She was also the first female athlete to score in a major college football game. Had Title IX not been in effect Fuller could have been excluded from this opportunity. The NCAA website states "Title IX requires that women and men be provided equitable opportunities to participate in sports. Title IX does not require institutions to offer identical sports but an equal opportunity to play" This lends itself to allowing a female who wants to play on the football team and there is not a women's team offered to have at least an opportunity to try out.
Stanford University was set to cancel 11 programs back in 2021 due to budget reasons from the COVID-19 pandemic. The female athletes who fought to keep their programs were successful in doing so because of Title IX as it requires the amount of athletic opportunities offered to men and women are proportional to the gender percentages within the student body. Five women's sports programs filed a lawsuit against the university claiming that these cuts would leave an imbalance in the number of male and female athletes. Title IX protected the women's fencing, field hockey, lightweight rowing, squash and synchronized swimming teams at Stanford.
But even after 50 years the playing field is not equal. There still so much further to go for women to be equal in sports. Female athletes should be household names. Women's sports deserve to be watched. In a study run by USC they found that coverage of women's sports totaled only 5.4% of airtime on shows such as ESPN SportsCenter in 2019. Cheryl Cooky professor at Purdue University stated "Every now and then, women's sports break through the glass ceiling of media coverage, but only when it's an elite, international competition. Even these mega events are eclipsed by the steady stream of men's sports, which are covered in season, out of season, with more energy, and at higher production values."
Women will continue to shatter glass ceilings in the sports world for the next fifty years but there is still so much work to be done to ensure that the playing field truly is equal.
Leave a Comment
About the Contributor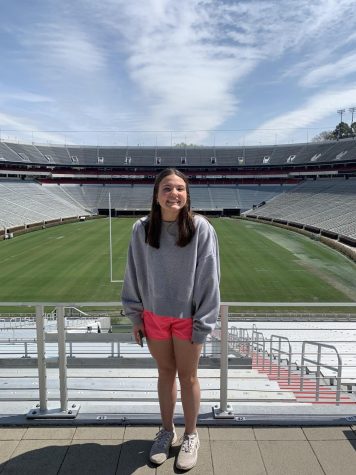 Lizzie Rubright, Sports Editor
Lizzie is a senior and in her third and final year writing for The Paw. Lizzie loves all things sports: watching them, playing them and especially writing...