Kicking Towards a Goal For Equal Pay
Dating back to April 2016, female athletes on the United States Women's National Soccer Team (USWNT) have been voicing their complaints over unequal pay compared to the United States Men's National Soccer Team (USMNT). Their fight began six years ago when fiveUSWNT stars including, Meghan Rapinoe and Alex Morgan filed a complaint to the federal Equal Opportunity Commision.
The women pointed out to ESPN that, "both the women's and men's teams are required to play a minimum of 20 friendly games per year." Where the inequality comes in is that "the women get a bonus of $1,350 only if they win a friendly, however the men are guaranteed $5,000 no matter the outcome and can make up to $17,625 each game." This was just one example that the USWNT players brought to light in their complaint against U.S Soccer. Following the accusations, the USWNT members received little to no change in their pay. However, their fight wasn't done yet.
Nearly three years later in March 2019, the USWNT filed a gender discrimination lawsuit against U.S. Soccer. They accused U.S Soccer, the sports governing body within the United States, of paying lower salaries to women and for subjecting them to more dangerous playing conditions. They asked for $67 million in payback and compensation. Four months later, the USWNT brought home their 4th world championship, more than any other country to ever do so. After their World Cup win, Meghan Rapinoe reported, "I think we're done with: 'Are we worth it? Should we have equal pay? [Are] the [male and female] markets the same?' Yada, yada. Everyone is done with that. Fans are done with that. The players are done with that …" For purposes of comparison, the U.S. men's national team has never won a world championship and didn't even qualify for the World Cup in 2018.
Following the lawsuit, U.S. Soccer Federation President Carlos Cordiero argued that the female athletes have less skill compared to their male counterparts. For that comment he received so much criticism that in March 2020 he ultimately apologized and resigned from his position.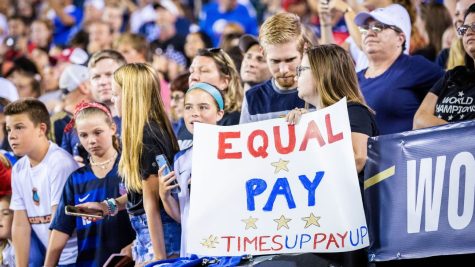 Furthermore, the Washington Post states that "a U.S. District Court judge in California rejected the notion that the U.S. women's players have been underpaid relative to the men but ruled that the players' additional claims of unequal treatment in terms of travel, medical staff and training equipment can go forward." It was noted by Judge R. Gary Klausner that the U.S. women had agreed to a different pay structure that includes more security than the men.
Although the lawsuit did not result in any pay changes, it did result in an agreement over equal working conditions compared to the men's team. AP News reported that, " The USSF agreed to provide equal resources to both the men's and women's teams for chartered flights. The federation also will maintain comparable budgets for accommodations and ensure the women stay in top-quality hotels." At the time this was a big step forward in the fight for equality in sports.
Ultimately, after six years of complaints, lawsuits, and court rulings on February 22, 2022 the USWNT players reached a $24 million settlement with U.S. Soccer. The settlement also resulted in an agreement to pay the men and women equally going forwards. The original 28 players who filed the lawsuit back in 2019 received $22 million. The additional $2 million establishes a charitable fund for women's and girls' soccer. However, the total amount does fall short of the $67 million they had originally asked for back in 2019.
USWNT forward Meghan Rapinoe told NBC's TODAY show, "For us, this is just a huge win in ensuring that we not only right the wrongs of the past, but set the next generation up for something we only dreamed of. She added, "we are really in the midst of an incredible turning point in women's sport."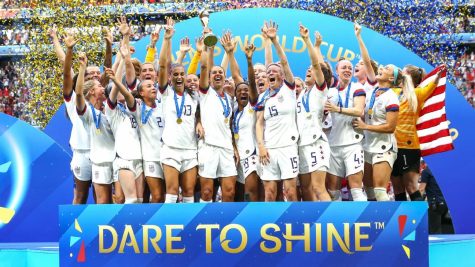 Even with this giant step, the work of the U.S. women's national soccer team is not done yet. Alex Morgan, USWNT forward, told the TODAY show, "U.S. Soccer has agreed to equalize the prize money moving forward, obviously we call on FIFA to truly equalize that for men's and women's tournaments, that's really what we set out to do. Equalize on all fronts."
Following the agreement, U.S. Soccer and the USWNT stood together and said, "Getting to this day has not been easy. The U.S. Women's National Team players have achieved unprecedented success while working to achieve equal pay for themselves and future athletes. Today, we recognize the legacy of the past USWNT leaders who helped to make this day possible, as well as all of the women and girls who will follow."
Leave a Comment
About the Contributor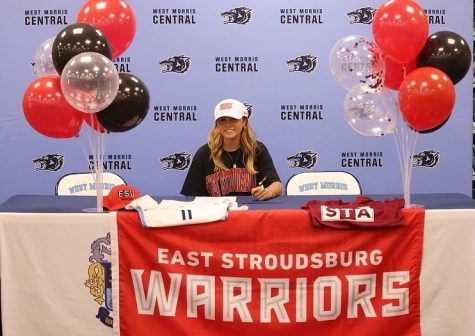 Maddie Lamb, Editor-in-Chief
Maddie Lamb is a senior here at West Morris Central. This is her second year writing for The Paw and wants to continue to write about school and sports...