The Battle of the Bands

The auditorium was filled with the sound of guitars, drums, bass, synthesizers, and even a viola on Friday March 4th, as West Morris Central held the 2022 Battle of the Bands. The event was hosted by Colin McLoughlin, Greg Suhr, and Trevor Henneberry, with a combination of teachers and students working to produce the sound and lighting. Three sets were performed by students, including two bands and a solo electronic performance.
Before the students got on stage, the concert was opened by Faculty Meeting, a teacher led band consisting of Mr. Ehasz, Mr. Coiro, Mr. Geary, Mr. Takacs, Ms. Harrington, Ms. Seitz, and Mr. Burroughs. They played a variety of classic songs, including "Rolling In The Deep" and "Welcome to the Jungle."
Following their performance, the first student band, Overexposure, walked on stage. They consisted of Kai Cleary on vocals, Nico DiBari on bass, Miles North on guitar, and Will Hoelzel on drums. After a brief note to the audience by Kai about a spelling error (it's Overexposure, not Overexposed), the performance was underway. They opened with "A Pearl" by Mitski, followed by a shoegaze styled interpretation of "Little Dark Age" by MGMT, and then "Brianstorm" by the Arctic Monkeys. After a short break and monologue from Kai, they closed out their set with songs from The Smiths and The Cure, and ending with a certain interpretation of Nirvana's "Smells Like Teen Spirit" (if you know, you know).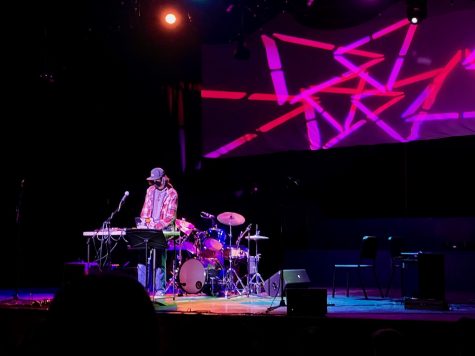 Next up was Nick Murello performing as Dr. Niix. In place of more usual instruments, he gave a layered performance of synthesizers and arpeggiators (or as he put it, a "TV remote that makes bleeps and bloops"). Over the course of around sixteen minutes he played through a variety of original tunes, building dense bases of synth drums, bass, and pads, while improvising melodies on top the entire time.
The final student band was The Late Bees, with Aoife Bell on vocals, Tyler Gattone on guitar, and Erin Thomas on drums. After opening with the theme song from Phineas and Ferb (everybody sang along), they realized they were missing someone, and called their bassist, Laura Nurmi on stage. However, she was equipped not with a bass, but with a viola as the lights turned yellow for their first song, a cover of "Lemon to a Knife Fight" by the Wombats. The bow stayed for one more song, "Sedona" by Houndmouth, before she switched to bass for the rest of their set. Their cover of "Francis Forever" had the audience waving their phone lights in the air, and the entire crowd sang along when they played Taylor Swift's "Blank Space". They performed songs from Fallout Boy and Florence + the Machine, before ending with a chilled out version of Green Day's "Boulevard of Broken Dreams," which once again had the audience singing along.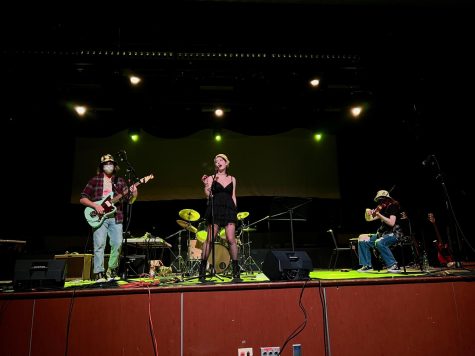 Then, it was time for the judges to decide the winner, with Kai Cleary returning to the stage to perform a brief acoustic set, a cover of "Message in a Bottle" by The Police, while they deliberated. Finally, the hosts came on stage one final time to announce the winners: Overexposure! The members of the band returned to the stage for thank yous, and then it was over.
This was the first Battle of the Bands in over two years at West Morris Central, with previous events having to be canceled due to COVID, and a very strong return for the tradition thanks to the efforts of everyone involved. Thanks to Ms. Patella and Ms. Loux for organizing the event, and to Mr. Ehasz, Baylor Tumminelli, and Jacob Cubbage for sound and lighting.
Leave a Comment
About the Contributor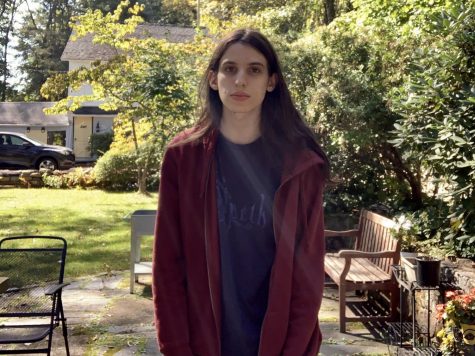 Miles North, Staff Writer
Miles is a senior at West Morris Central, and is excited to be writing for The Paw this year. Miles' main passion is for music, and he spends most of...