Mr. Central Canceled
Every year West Morris Central runs their very own talent competition, Mr. Central. This isn't an ordinary talent show, instead it's a play off of "Miss USA." Senior students get the chance to compete against one another in a series of competitions judged by WMC faculty. Ms. Patella, one of the senior class council advisors, views Mr. Central as "an opportunity for our student body to showcase different areas of their personality that don't necessarily stand out in the classroom and it's a way for the senior class to raise money to support their Prom." Despite the typical excitement regarding the competition, this year it was canceled.
Generally, Mr. Central consists of a talent portion as well as a big group dance which typically take a lot of time to rehearse. Ms. Loux, the other senior class council advisor, stated, "No one was willing or able to commit to the rehearsal schedule. No Mr. Central contestants means no show."
Two years ago the competition was canceled due to COVID. Although it was held last year it was a part of the Senior Sunset celebration and was not open to all students like it traditionally would have been. Many had hoped that the contest would be back again this year. Before it was canceled, Ms. Patella told The Paw, "This year we are changing the format a little bit and we have some big surprises!" One of the biggest changes that was revealed is that this year the competition was supposed to be held outside on the turf instead of it being in the auditorium. The other additions were meant to be surprises, however with the cancellation the student body now has to wait until next year. Ms. Loux also expressed, "Whether or not Mr. Central runs next year will be up to the Class of 2023 advisors, officers, and students."
Usually, Mr. Central raises money for Prom. Ms. Loux announced, "We were hoping to make Prom bids a bit cheaper if a significant amount of money was raised but were not planning on it anymore." At this time there are no new fundraisers in its place.
Despite the cancellation of Mr. Central there are still many upcoming events to end a very successful 2021-22 school year. From Relay For Life to Prom there is still so much to look forward to!
Leave a Comment
About the Writer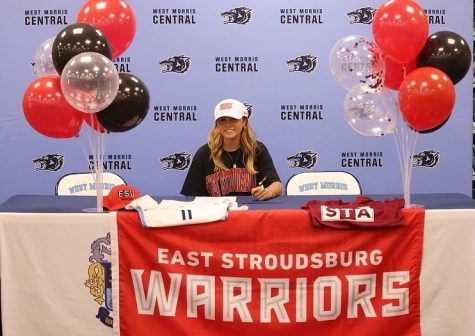 Maddie Lamb, Editor-in-Chief
Maddie Lamb is a senior here at West Morris Central. This is her second year writing for The Paw and wants to continue to write about school and sports...