A 2022-3 Club Preview
The sheer amount of clubs and extracurricular activities offered here at WMC is staggering, and it can be quite intimidating at first glance. There are so many clubs, some of which sound similar to each other and others whose very names are confusing. You're not going in completely blind: in the early fall there will be a club fair which allows both new freshmen and returning students to peruse their club options, ask questions to club leaders, and sign up where they're interested. But it's still always good to have a baseline knowledge beforehand of the many offerings Central can provide. 
Interested in exercising and playing sports but don't want to take up the time constraints of Central's dedicated sports programs? WMC has club options for you. From the structured Archery Club to more casual programs like Ski Club, we have a wide variety to choose from!
Archery Club: Archery Club is offered to provide students with the opportunity to participate in a competitive sport that can be enjoyed by anyone. You don't have to be the biggest or fastest to compete in the sport successfully. Success in this sport is determined by how well you develop proper form and discipline, not strength or physical stature. It is a life sport that can provide you with years of enjoyment. Our students compete in tournaments against other high schools and in the NJ NASP Virtual Tournament which ranks our students against every student in the state. The club typically runs from October through April with most competitions occurring in February and March. 
Bowling Club: WMC Bowling Club is for students to get together, socialize and play a couple of games of bowling.  It's a relaxed environment where you are able to meet new people or create a team of your friends for some friendly competition.
Boys Volleyball: The Boys Volleyball Club meets for 2 hours a week in a skills clinic setting followed by some recreational play.  Students who come have to learn the skills before they are allowed to play in order to promote safe and fun volleyball.  The group runs in the first and last marking periods of the school year.
FCA: The Fellowship of Christian Athletes gives Christian athletes at WMC an opportunity to grow in their faith and on the field. We are a community of athletes who want to spread the good news of Jesus Christ and use sports as a platform to do so.
Intramurals: West Morris Central Intramural program is aimed to provide a rewarding experience and opportunity for athletic excellence for all its participants. Its goal is to promote character development in students, including cooperation, teamwork, leadership, and loyalty. Students will experience legitimate means of displaying good sportsmanship and the will to win, thereby contributing to the development of institutional morale, loyalty, and school spirit. This club is run by Miss Patella. 
Ski Club: Ski Club is offered at WMC to promote participation in a non-competitive physical activity that students can enjoy as a life sport. Ski provides our students with the opportunity to socialize in an environment outside of West Morris Central. It is open to both experienced and non-experienced skiers/snowboarders. Typically, we take five trips starting in January on Thursday nights. We have a limit of 50 participants based on the charter bus capacity. 
Spikeball: Spikeball is open to all students 9-12, who are interested in this fast-paced activity. Students can participate in games of 2 v 2 or 1 v 1 games. This game helps develop quickness, hand-eye coordination, teamwork and strategizing. It is a fun and fast-paced activity. If you have any questions, please contact Mr. Maczko at his school email.  We opened this activity last Fall and met 1-2 times per month depending on the interest and player availability.
Musicians, listen up! Or really, we'll be listening to you if you join one of Central's music-based extracurriculars. Central has 4 audition-based extracurricular ensembles as well as Jam Club, a more casual club which takes all types of musicians.
A Capella Groups: West Morris Central has a long tradition of outstanding a capella groups, so come out to audition for one of the three groups in the school. These are student-led groups that meet regularly and perform both in and out of school for community events.  Each group has auditions during the beginning to middle of September. The Loreleis are an all-female group, The Noteworthies are an all-male group and the Howlers are the co-ed group. 
Jam Club: Jam Club is offered as an acoustic club. Typically, we pick four or five popular songs, meet, and play those songs. Any instrument is welcome. We also cover some basic music theory and chord structure that will allow you to play with other musicians. This is not a formal music instructional format. 
Jazz Band and Combos: The WMC Jazz Band is a high energy performing ensemble made up of a select group of students in grades 9-12. The class studies a variety of jazz styles including jazz, funk, Latin, pop, and other related music. Emphasis is placed on individual part playing, music reading, and improvisation. Auditions take place in October of each year. The Jazz Combo is a small performing ensemble made up of a rhythm section and several horns. This 3-7 member group allows student musicians the opportunity to explore jazz composition, arranging, and improvisation in a more creative and interactive way than what is possible in larger ensembles. Improvisation is explored in depth in a safe and collaborative environment and instrumentation is flexible in this group. 
Symphony Orchestra: The WMR Symphony auditions advanced musicians from BOTH WM Central and Mendham High School. It is strongly encouraged that musicians are registered in a school-day band, choir, or orchestra course. Symphony rehearses weekly Thursday evenings: 7:00 – 8:30 pm. Symphony musicians play strings, woodwinds, brass, and percussion instruments. 
Tuesday Night Groups: Tuesday night groups consist of two audition-based choirs, the Women's Ensemble and the Concert Choir. The singers perform higher-level repertoire in a chamber setting every Tuesday evening between 5:00 – 7:00pm.  The Women's Ensemble performs SSAA music with the chance for all treble voices to sing in 4-part harmony repertoire ranging from modern choral music to Renaissance pieces. The Concert Choir will be an SATB ensemble (men and women) that performs both a Capella and accompanied music from a wide variety of genres. Auditions will usually take place in mid-September and the groups perform at various times during the year.
High school students, on the whole, do a lot of schoolwork. But sometimes even the average course load isn't enough to fulfill one's fascination with a particular subject. Luckily, Central has a myriad of resources for students who want to further their academic knowledge. 
Academy of Science: Academy of Science is a club that prepares students to compete in the NJ Science Olympiad.  Each meeting we perform a hands-on science activity to review concepts covered in the Science Olympiad events.  Some of the activities we cover include building bridges, forensic investigations, bird identification, and experimental design.  If you are interested in science, this is the club for you!
Chess Club: Chess Club meets once a week during lunch from Oct. – April. We have an intra-school tournament which decides our WMC chess team. This WMC team then represents West Morris in inter-school tournaments with other high schools like Sparta, Pope John, Mountain Lakes, Livingston, West Orange, Bloomfield and Summit. Before Covid we attended a state level tournament as well. We also try to hold chess clinics during the year to improve the strategies and strengths of our players and help the novices to improve their game. 
Chinese Club: The Chinese Club is dedicated to creating awareness and understanding of the Chinese and related Asian culture, heritage, and identity.  Students will have opportunities to explore ancient Asian culture through various fun activities such as games, movies, calligraphy, sports and holiday celebrations!  The club is open to all students, regardless of whether they are currently taking Mandarin class or not! The club members meet every Friday during lunch period in school. 
Debate Club: The WMC Debate Team is advised by Mr. Jacobsen and competes in the Northwest New Jersey Debate league.  The topic for the 2022-23 school year involves NATO and foreign policy involving new technology and AI.  We are looking for new members to join us either as debaters or researchers on this interesting topic!
National History Club: Open for all students, the History Club meets monthly to explore history through film, guest speakers, fun activities, and occasional field trips. Students involved have the opportunity to shape the club and our events. 
Robotics Club: In WMC Robotics club, members work together to design, and build a robot for the yearly VEX competitions (held on weekends throughout the fall & winter). We code, build, fundraise, practice for our competitions, and gain great hands-on and problem solving experience. 
In a similar vein, Central also has many opportunities for students who are specifically interested in reading and writing, especially in styles which might not be possible in a typical English class.
Book Club: Book Club is a place where those who love to read can get together to talk about books. We typically read the same book so that we can have discussions about it. We do talk about other things that we are reading and make recommendations. For true book lovers, our "to be read" list is always long! 
Literary Magazine: Literary Magazine, commonly referred to as Lit Mag, is a club that gives students the opportunity to share their original writing with their peers in a supportive environment.  Run by students, meetings focus on constructive criticism, positive feedback, and encouragement.  In early spring, students are highly encouraged to submit at least one piece to Echoes, WMC's literary magazine. 
The Paw: The Paw is West Morris Central's official school newspaper. The Paw is printed and handed out each marking period, and the online version is updated regularly. The job of The Paw staff is to report on everything that goes on both in and around WMC, from hard news stories to sports features and more! Visit us online at and look out for print copies on designated stands around the school.  All students are encouraged to join The Paw staff to talk and write about what is important to them!
Yearbook: Our school yearbook club supports the yearbook class in the development of the yearbook club by capturing candids, attending events, creating page spreads and fact checking information. Creating our school yearbook is a true learning experience like no other in the school. You are dealing with real businesses, real deadlines, and real work to put out a real product at the end of the year. After determining a theme, the yearbook staff gets to work turning blank pages into a phenomenal memory book for students to enjoy now and in the future. Our yearbook has been the recipient of many awards on both the state and national level.
Music and writing aren't the only arts, however, and WMC is always willing to accommodate students with a passion for creating. From fine to performing arts, we have a number of clubs available. 
Art/Photography Club: Art Club is open to all students 9-12 who are interested in learning about the world of art and photography outside of the fine arts classroom. This club explores and encourages freedom of creativity through different individual and group based projects. Projects can consist of school/public installations, collaborative pieces, independent artworks and more. Members are encouraged to contribute suggestions and ideas for projects that the club might enjoy. Art Club will begin meeting in October.
Central Theater: Central Theater produces two mainstage shows each year, a play in the fall and a musical in the spring. Freshmen are encouraged to audition to be in the cast and/or get involved behind the scenes! Student practitioners will help train freshmen behind the scenes in lights, sound, stage-crew. Getting involved with theater is a great way to meet a lot of people and become part of a collaborative team. Freshmen are also encouraged to take the classes Introduction to Acting, and Tech/Stagecraft (a class which is an introduction to design).  By participating in shows, cast members will gain some training in speech, acting, voice and dance.
Fashion Design Club: Fashion Design Club is a laid-back club that focuses on building up skills from any level, beginner – expert. In the club, we go over fashion sketches, sewing techniques, and get to create some amazing fashion pieces! This is also a great club if you want to learn more about your style and what fashion means to you. This club meets once a week, typically on Thursdays every year.
Not only does Central have clubs that fulfill traditional extracurricular roles, but there's also a good amount of clubs which are focused on community service and outreach. No matter your interest, there's ways for you to help out in the community. 
Green Team: The WMCHS Green Team is dedicated to fighting climate change through activism and awareness.  WMCHS is registered with TCNJ's Sustainable Jersey initiative, and our goal is to complete sustainability projects to become a more sustainable school.  Members of this club also strive to increase awareness of global environmental issues and to change habits in our daily lives to minimize our carbon footprints.  
Highlanders for Humanity: The Highlanders for Humanity Club is the largest community service club at West Morris Central High School. We believe service to the community is an essential part of every student's education. While community service is not required, all students are invited to participate in service projects through the various community service opportunities we offer.  Activities include the following: food drive, sort and shelve food at the food pantry, Pay It Forward, campus/community cleanup, wreath making and hanging, Food Drive, Holiday Toys & Clothing drive, virtually any other community service activity you can think of!  We also work with the Sarah's Fight for Hope Foundation, a non-profit organization committed to providing support to families impacted by childhood cancer. 
LGBTQ+ Inclusion Club: LGBTQ+ Inclusion Club is dedicated to providing a safe space for students who fall within the diverse spectrum of the LGBT community and their allies while also focusing on efforts to spread awareness and acceptance, acquire more knowledge, and make change in our school and beyond.
Project Peace: Project Peace is a club designed to work on school climate related topics.  The club is open to all grades and works on a variety of activities, campaigns and discussions that are geared to foster respect, compassion and kindness. 
Red Cross Club: Red Cross Club facilitates student participation in activities such as food drives, awareness campaigns, coin fundraisers, and even local dodgeball tournaments to promote engagement with the Red Cross and support for mission-related goals.
Relay for Life: Ms. Debbie Gonzalez and Mr. Dan Coiro are the Relay for Life advisors. Ms. Gonzalez has been an advisor for 11 years and Mr. Coiro for 4, prior to which he was involved in the Penn State Thon. Relay is an activity formed to raise both money and awareness in the fight against cancer. This group is student run and directed. Students take on Chair positions as Sophomores, Juniors and Seniors. In Mendham High School all of these positions are mirrored and students from both WMC and WMM work together in the only district wide club. Freshman can participate as members of committees and also on teams for the actual event as can any of the student body. We run events throughout the year that range from coffee houses to the all night Relay for Life event itself.
Service Learning Club: The Service Learning Club provides students with the opportunity to participate in community service programs throughout Morris County. This club is open to all students in every grade. Students do not have to participate in every activity to be in this club. Some of the activities that we do are visits to local retirement centers to provide interaction with clients, serve food to needy families at the Community Soup Kitchen in Morristown NJ, assist with local senior resource facilities, walkathons, and more.
Finally, there are a number of clubs that don't fall into any of the previously mentioned categories, but are still golden opportunities for interested students. 
Astronomy Club: We don't have an astronomy class in school, and, subsequently, very little attention is paid to astronomy in science classes. Often, people who love the stars have to pursue that interest alone. Astronomy Club is a brand-new ~space~ for students to explore and develop any interest they might have in astronomy with a group of people who hold that same interest. Although members will have to be flexible due to social distancing limitations, examples of things we might do include watching space documentaries and/or movies, hearing mini-lessons from Ms. Hedden, engaging in space-related activities & demonstrations, and generally creating a space for discussion of the cosmos! 
FBLA: Future Business Leaders of America is a part of the National FBLA Organization which is the largest business career student organization in the world. This club is ideal for any student with an interest in business who may want to pursue either a career in the business sector or obtain a business degree in college. Throughout the school year, FBLA takes several field trips – Macy's Marketing Tour in Herald Square, NYC, FBLANational Fall Leadership Conference, FBLA Regional Competitive Events and FBLA State Competitive Events and Leadership Conference. We also have three to four guest speakers per year visit our chapter during lunch to share with us their business experience, strategies, and suggestions for success. Other meetings include resume builders and how to properly dress for interviews as well as on the job.
Film Club: Film Club provides students with an opportunity to view and discuss a variety of films with their peers. As a group, we compile a list of films and each month vote on a film to view and discuss. The goal of the club is to provide a space to discuss, critique, and enjoy films. 
Future Educators Club: Future Educators Club is an organization that provides insight about the education profession and avenues for learning and practicing the craft of teaching.  We conduct field trips, seminars, social nights, discussion panels, and organize a school-wide THANK YOU during Teacher Appreciation Week.
Student Council: Student Council is a group that plans, promotes, and holds activities and events that bring students together. We promote school spirit and pride in the pack! Class Council and Student Council members represent their peers and are an important voice for what goes on here at WMC. 
Haven't seen an interesting club, or looking for something different? The club list is liable to change (and likely will!) next year as upperclassmen leave and new students decide to start up their own groups. If there's nothing at the club fair that interests you, feel free to start up your own! Clubs require at least one teacher advisor and permission from administration, but if you're passionate about something and want to share it with the school community, feel free!
Leave a Comment
About the Writer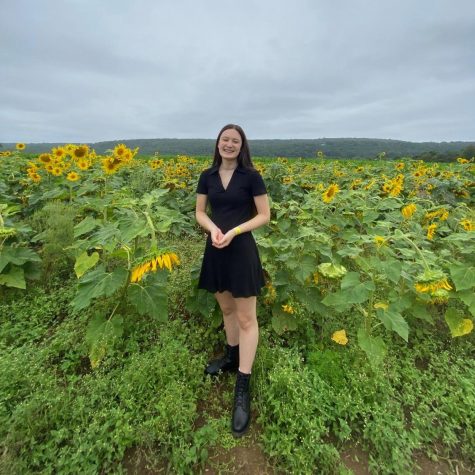 Evelyn Oravez, Editor-in-Chief
Evelyn is a senior and Journalism III student this year, and is one of The Paw's editors-in-chief for two years running! This year she is excited about...