New Safety Measures at WMC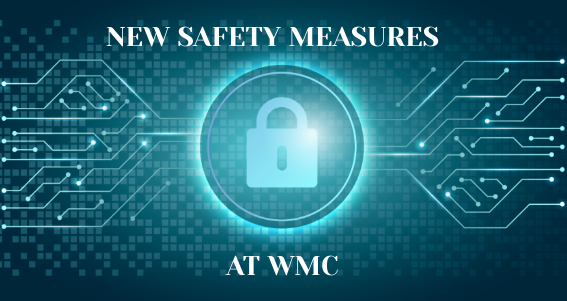 In the midst of the many changes occurring at the beginning of this school year such as the new bell schedule and the introduction of Canvas, a heightened response to student safety has also been developed and enforced. These changes include the addition of blinds in the cafeteria to be used during lockdowns, additional radios and cameras, new walkie-talkies to be distributed amongst teachers, and a new P.A. system that will hopefully be installed by mid-October that includes buttons provided to the teachers that allow for instant communication with those in the main office, security, and every administrator in the building, as well as improvements on the ability to hear announcements in the noisier parts of the school such as the bistro. "When we were doing our drills, or when we were just monitoring the building, we noticed that it wasn't obviously as audible as we'd like it to be… and when the announcement comes on you want everybody to be able to hear it and you want everybody to be able to hear what the message is," explained Mrs. Liskiewicz, the assistant principal in charge of safety and security at West Morris Central.
Each of these changes has been put in place with the expectation that communication within the school will prompt a quick and active response. "Wherever the need is great, we'll be right there, wherever it is," Mr. Burroughs, a retired police lieutenant and integral part of the security team at West Morris Central assured. Mrs. Liskiewicz is also taking part in frequent meetings with a safety and security team made up of administrators, guidance counselors, teachers, admin assistants, two students, Mr. Burroughs, Officer Marut, and a facilities person to discuss and monitor the new changes, suggest new ones as they notice more problems and prepare behind-the-scenes safety measures for events with large crowds such as football games or graduation to ensure the safety of all in attendance.
However, the students are integral to ensuring that this new safety plan has its desired effect. One of the greatest challenges West Morris Central faces, in vice principal Mrs. Liskiewicz's opinion, is the great number of entry and exit points at the school – a whopping forty. Though they are actively patrolled by security staff such as Mr. Burroughs, it is important that students do their part too, and make sure not to open the doors for other students, even if it is friends begging to be let in. "There's a reason why we ask them not to open the doors for anyone, because we're working so hard to make sure that our campus is secure, and by doing that, it is kind of, in a sense, jeopardizing our safety, because you don't know – unintentionally, that door may not lock appropriately," explained Mrs. Liskiewicz. Additionally, it's important that the students communicate with the adults at the school for any problems that they might have. "If you see something, say something," said Mr. Burroughs. This extends to social media as well. Students are also encouraged to seek help for their more personal problems. "There's many services and people here who you can come to to speak to about problems with your family, a friend, bullying, something you see on television, or something you aren't comfortable with," explained Mr. Burroughs. Additionally, it's imperative to the safety of each student that they do not leave campus, as they risk experiencing being in an accident that the school cannot protect them from once they leave.
Both Mrs. Liskiewicz and Mr. Burroughs believe that the community at West Morris Central has been its biggest strength in regards to safety. "I'm happy to be here, and I have no intention of going anywhere because of Mrs. Liskiewicz and Mr. Rymer. First and foremost, I know that they're concerned about your safety," stated Mr. Burroughs. Mrs. Liskiewicz also highlighted the success of which the students have been upholding their side of the duty. "The kids are really great about saying something if they notice something that's off. So I think that we have a really good vigilant community here," she said. She also complimented the staff's ability to learn and adapt to these procedures and drills.
Additionally, Mrs. Liskiewicz and other administrators have been working closely with the Washington Township Police Department to ensure that they are prepared to best help West Morris Central in the event of a crisis. This has included the introduction of the "second shift" where police officers other than those who are at the school during the day help to monitor after-school events. Police officers also often come to West Morris Central to familiarize themselves with the campus and have been provided with master key cards so that in the event of an emergency, they are able to navigate it efficiently and effectively.
Along with these measures, a new student resource officer has been introduced to West Morris Central – Officer Marut. Though Officer Marut is fairly new to West Morris, based on what he has learned so far he strongly believes that this year, the high school will be the safest it's ever been. "We take what we learn from last year and improve, make little tweaks here and there, and improve them from there. I'm sure next year we'll have a couple more tweaks to go on. It's never going to be perfect, but it's the best that we could do at this moment," he stated.
Officer Marut has enjoyed the first few weeks that he has spent at West Morris Central. "Everyone's very friendly," he said. "It's a really nice environment, and I'm very happy, I'm very blessed to be here."
Though Officer Marut's first job was selling tires at Goodyear, he has always known that he wanted to work in law enforcement. When reminiscing on what first inspired him in this direction, the officer described, "My friend's father was a police officer in Garfield, and he would come home in the police car, with the badge, and the shiny uniform, and I'm like 'that's for me.'" Before coming to work at West Morris Central, Officer Marut has worked as a detective in charge of narcotics investigations, a juvenile officer, a drug recognition expert for the state of New Jersey, a security guard, and a police officer in what he called "beautiful Seaside Heights."
Outside of his job, Officer Marut participates in a variety of hobbies. "I'm not your typical cop – I don't hunt, I don't fish, I don't care about it – it's not my thing," he explained. Instead, he enjoys watching movies, playing both the guitar and the drums, cheering on the Mets or Dolphins, and attending his daughter's performances of ballet, musicals, and plays.
These changes have all been made with the intent of keeping West Morris Central students and staff safe. That is the focus of all of the staff here, "because if you're not safe, if you're not comfortable, you're not going to be able to learn," to quote Mr. Burroughs. But these changes won't have their desired effect unless the students and staff work together and do their parts – so it is imperative that they do so.
Leave a Comment
About the Contributor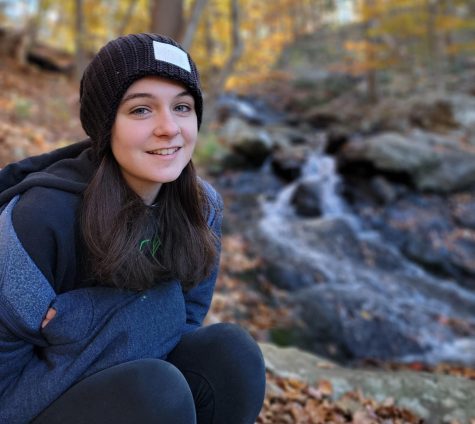 Dakotah Hubbard, Editor-in-Chief
Dakotah is a senior and a Journalism II student this year. She is very excited to be returning to The Paw for her first year as an Editor-in-Chief. Outside...