Central Theatre: Arsenic and Old Lace Review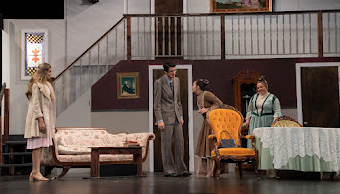 This year, Central Theatre proudly presented its fall play, Arsenic and Old Lace, originally written by American playwright Joseph Kesselring in 1939. The cast performed in their usual extraordinary manner. 
Arsenic and Old Lace is classified as a dark comedy, set in 1940s Brooklyn, New York. The story follows the Brewster family, led by the two aunts, Abby and Martha, who have secretly been murdering men who they deem "lonely" in life and who also raised now-adult brothers Teddy, Mortimer, and Jonathan. When Mortimer finds a body of a man murdered by his aunts, coupled with the arrival of Jonathan and his new friend, Dr. Herman Einstein, and numerous police officers at the house, the audience sees the lengths Mortimer must go to keep his aunts and the rest of his family out of trouble. This cast did a wonderful job, and they emphasized the humor of this story.
First, the embodiment of Abby Brewster by Violet Caruso really did the role justice. Her old-lady mannerisms and charm really added to her performance, and she did an outstanding job, taking on a lead role as only a sophomore. The comedic aspects of this performance also were added to through the other sister, Martha, portrayed by senior Ava Ferentinos. The two had impeccable comedic timing and never failed to make the audience laugh. 
This was furthered by the two brothers Jonathan and Mortimer, played by Max Ruiter Lopez and Kyle Pass respectively, whose villain-and-hero brother dynamic just added another layer to this dark comedy. Lexi Bishop as Dr. Einstein, the sidekick of Jonathan, had the audience doubled over with laughter. Additionally, the third of the Brewster brothers, Teddy, portrayed by Juniper Gattone, provided comedic relief, particularly with each "CHARGE!" On top of that, the police officers of Brooklyn, played by Jeremy Timog, Logan McFadden, Kim Byutnes, and Veronica Mulhern, were perfect at furthering the dramatic irony so ever-present within this play. Each of them had a specific character which they fully merged with. Finally, the character of "girl-next-door" Elaine Harper, played by Olivia Budd, was Mortimer's love interest, and throughout the story, the audience gets to see both sides of that relationship, and how much they both care for each other. 
Of course, this amazing performance was in part also due to the excellent work of many students and teachers involved in the production. This year's fall play was the first with a new theater teacher and director, Dr. Agostin. The West Morris Central Theatre program and all those involved have really appreciated her commitment and all she has brought to the community, and she has done an outstanding job with this play. The production would also not be possible without the staff Assistant Directors, Mrs. Kellam, and Mrs. Freitag, staff producer, Ms. Johnson, and stagecraft with Mrs. Pickrell and Mr. Flynn. Another success, Central Theatre!
Photos by Aoife Bell, Central Theatre Photographer
Leave a Comment
About the Contributor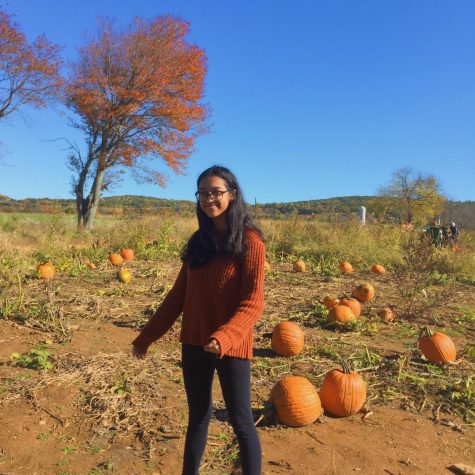 Meghna Mallya, Staff Writer
Meghna is currently a junior at WMC, and she is excited for her second year writing for The Paw! She is a part of Central Theatre, as well as many other...