Messi Makes History: Argentina Wins World Cup
The 2022 World Cup kicked off in Qatar on November 20th. After roughly a month of games two teams were left,  France and Argentina. On Sunday December 18th, the two teams faced off in hopes of coming out victorious. After 90 minutes of play, Argentina was crowned the champions.
The last time Argentina won a World Cup was all the way back in 1986. Their last World Cup final appearance was in 2014 when they lost 1-0 to Germany. 
This year, their tournament debut ended in a 2-1 loss to Saudi Arabia. Despite the loss, the team was able to recover and finished the group stage with wins over Mexico and Poland. Then in the round of 16 they beat Australia with a score of 2-1, followed by a win against Netherlands in a penalty shootout and ultimately a 3-0 win against Croatia in the semifinals. 
With this being Argentinian soccer star Lionel Messi's last World Cup ever, the team knew they had to come out strong. Within the first eight minutes of the game Argentina forward Rodrigo De Paul had a solid opportunity on goal: however, it was deflected and went out for a corner. Then, minutes later France keeper Hugo Lloris collided with the Argentinian attackers and needed medical treatment; however, he remained in the game. After roughly 20 minutes of play, Argentina forward Di Maria got fouled by French defender Ousamane Dembele resulting in an Argentina penalty kick (PK). In the 23rd minute Lionel Messi capitalized on this opportunity, firing home the PK to make the score 1-0. This goal also meant that for the first time in World Cup History one singular player scored the first goal in every knockout stage. Argentina's dominance didn't stop there. In the 36th minute Alexis Mac Allister found wide open Di Maria who made the score 2-0 Argentina.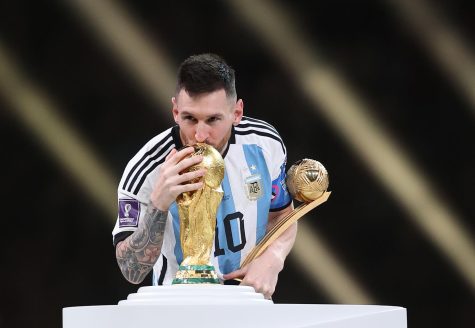 Before the end of the first half France already started to make substitutions in hopes to get at least one goal back, however they were unable to find the feet of 23 year old forward, Kylian Mbappé. The young star of the French team had only 11 touches in the first half which resulted in minimal possession and few scoring opportunities.
For the first 30 minutes of the second half there were very few opportunities for either side. With just over 10 minutes left in regulation France's shot at winning their second consecutive World Cup seemed infeasible. However, in the 79th minute Mbappé capitalized on a PK making the score 2-1.  Then just 90 seconds later France did the unthinkable when once again Mbappe found the back of the net and tied the game up at 2 a piece. Following Mbappé's goals France continued to press Argentina, and the last ten minutes of regulation were back and forth resulting in chances for both teams. However after 90 minutes plus stoppage time the game was tied 2-2 and going to extra time. 
For the first half of extra time it was clear the exhaustion was setting in, however in Messi's last World Cup game ever he was able to find the back of the net one last time in the 110th minute. Once again with France's dreams of winning seeming slim, the Argentine defense conceded a hand ball in the box, resulting in another French PK with 3 minutes left. Mbappé continued his dominance, stepped up, and fired home the shot, tying the game up at three a piece. After 120 minutes of play, the game ended in a 3-3 tie and went to a penalty shootout. 
France was up first and once again Mbappé stepped up and put France ahead 1-0. Messi followed for Argentina and equalized the shootout. As the shootout continued, Argentina goalie, Emiliano Martínez, came up with huge stops and ultimately helped Argentina win 4-2 in PKs. With this, Argentina won just their third World Cup and Messi won his first ever.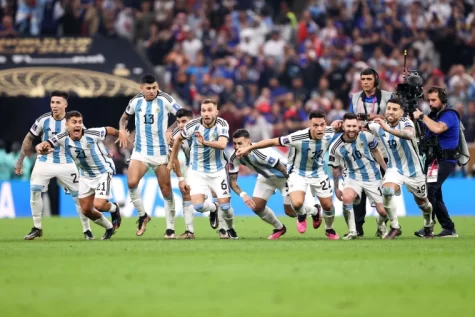 France won the 2018 World Cup and had huge expectations for this year's tournament. They started off with a 4-1 win over Australia. Then, finished group play with a 2-1 win over Denmark and 1-0 loss to Tunisia. Despite the loss to Tunisia they still finished at the top of Group D with an overall record of 2-0-1 in group play. France continued their World Cup dominance by defeating Poland in the round of 16, England in the quarterfinals, and Morocco in the semi-finals. France almost did the unthinkable in the finals and with a very young team they will be sure to find success for many years to come.
Leave a Comment
About the Contributor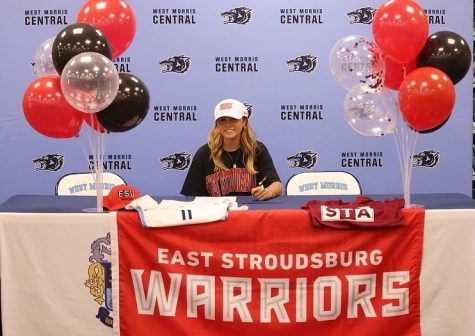 Maddie Lamb, Editor-in-Chief
Maddie Lamb is a senior here at West Morris Central. This is her second year writing for The Paw and wants to continue to write about school and sports...