Beloved College Football Coach Mike Leach Passes Away
This past month, on December 12, 2022, at the age of 61, the legendary coach Mike Charles Leach passed away due to complications of a heart condition. Leach is one of the most influential and iconic coaches to touch the sport of college football. His innovative offensive mind and funny mannerisms have created an everlasting status for Leach. His claim to fame was his revolutionary air raid offense that set several NCAA offensive records.
Leach was born in Susanville, California to Frank and Sandra Leach. His father's job caused the family to move around until they settled down in Cody, Wyoming. He went on to be recruited to play football for Brigham Young University (BYU), but due to an ankle injury ended up playing rugby instead. Leach stayed close to football and would attend the film sessions that included the likes of future NFL stars Jim McMahon and Steve Young.
He began his coaching career as an assistant for Cal Poly and College of the Desert. He then traveled to Europe and served as head coach for the Pori Bears in the American Football Association of Finland. In 1989, he joined Hal Mumme's staff at Iowa Wesleyan University as the offensive coordinator. This duo spent three seasons together before moving to Valdosta State and then Kentucky. The two were popularizing the air raid offense that proved to be effective as it produced a No. 1 overall NFL draft pick in Kentucky quarterback Tim Couch.
Leach would then join Oklahoma for the 1999 season under famous head coach Bob Stoops. Oklahoma's offense was ranked 11th in the Big XII in 1998, but with the arrival of Leach, the team's offense went to first place in the conference in one year. Due to his impressive feat with Oklahoma, Texas Tech (a Big XII team themselves) saw the potential and hired him as head coach for the upcoming 2000 season.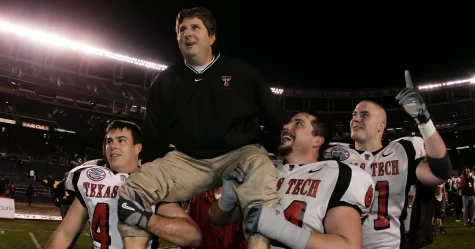 With Texas Tech in 2002, Leach coached the team to wins over rivals Baylor, Texas, and Texas A&M while going on to win the Tangerine Bowl against Clemson 55-15. This was the first postseasonwin for the program since 1995. The offense would average upwards of 500 yards per game through the air with Leach's offense. This was unheard of during this time of college football which was more known for ground and pound play seen through players like Oklahoma's running back Adrian Peterson and USC's Reggie Bush.
Leach would later have a stint as a color analyst for the CBS College Sports Network after his time with Texas Tech was finished in 2010. After a year in front of the camera, coach Leach wanted to go back and coach the game he loved. He would become the head coach of Washington State in November of 2011. He would coach there until 2019 where his best season was when he had Gardner Minshew at the helm in 2018. The team set a school record 11 wins after defeating the Iowa State Cyclones 28-26 in the Alamo Bowl.
After 2019, Leach decided to join the powerhouse conference in the SEC. He would coach the Mississippi State Bulldogs. He earned his respect from the State fans when he beat defending National Champion LSU in the first week. He would continue his offensive success in the potent conference with his team averaging close to 450 yards per game. This just shows the offensive genius Leach was because he was doing this against the best players on the best teams in the country.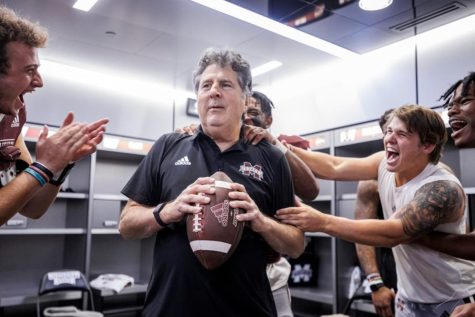 Coach Leach will forever be immortalized through his hilarious 'Leachisms.' Following his first win with Texas Tech he stated, "It's kind of like doing surgery with a chainsaw instead of a scalpel. We had pieces and parts flying everywhere. It turned out in our favor. We've just got to clean it up the next time around." After a game while being asked about a fake field goal attempt on if it was supposed to be a pass or a run the coach stated, "Your guess is as good as mine." During the 2022 season Leach was asked a question by a reporter about what advice he has for coffee drinkers. The question was proposed due to the early start time of his team's game that Saturday. Leach responded by saying, "Well, coffee tastes terrible anyway, so don't put anything in it to obstruct the harsh, bitter taste. Just put it down one sip at a time." This perfectly depicts the genuine personality he had. In 2004 after running up the score against Nebraska, he was asked about why he didn't let up. He said to the media, "The interesting thing about football is that football is the only sport where you quit playing when you get a lead. In golf, you keep trying to score well when you're ahead."
Coach Mike Leach will be remembered forever in not only the college football world but the rest of the world as well. His innovative air raid offense changed the landscape of college football and his legacy will live on for many years to come.
Leave a Comment
About the Contributor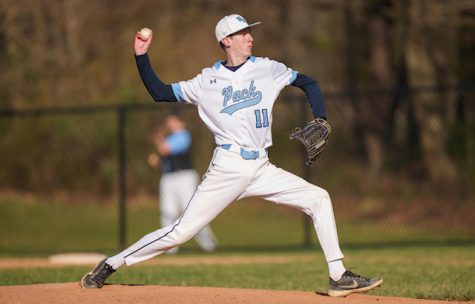 James Cleary, Staff Writer
James is a junior at West Morris Central. This is his first year writing for The Paw and he is excited to cover all things sports, whether it be professional...