SZA's 'SOS' Review
On December 9th, 2022, SZA released her second studio album titled SOS. The album contains 23 songs, and is 1 hour and 8 minutes long. SOS has been highly anticipated by fans for five years. With the success of her first studio album released in 2017, Ctrl, could SZA's sophomore album live up to peoples' high expectations?
The album rollout started in December of 2020 with the release of her single "Good Days." The song peaked at number 9 on Billboard Hot 100 and got nominated for Best R&B Song at the 64th Annual Grammy Awards. In the song, she talks about looking forward to "good days" and living a life of optimism after being hurt from a past relationship. A year later, in December of 2021, she released her second single called "I Hate U." Not only is there a shift in the lyrics of this song, SZA also seems to experiment sonically. That seems to be one of the main takeaways from this album. With genres ranging from her classic R&B style to pop-punk, and even testing the waters with some country.
The album starts with the title track, "SOS." It's more of an introduction to the album and its themes than a complete song. The album ends with 'Forgiveless". The song talks about the people in her life who have disrespected her or talked behind her back. She asserts her confidence in this track and sings about how she won't let them bring her down. The closing track really succeeds at closing the chapter she was in when she wrote this. Letting go of toxic love is a main theme in this album. "Now that I've ruined everything, I'm so f-ckin' free" from "Seek and Destroy" is a really blunt but effective way of showing this theme.
SZA really decided to showcase her talent with this record, where in Ctrl, she seemed to focus more on the message she wanted to send. While this album can feel a little long and there are some corny additions like her pop-punk style song "F2F," her success in experimenting with new sounds is undeniable. She showcases her phenomenal rap flows on songs like "Smokin on my ex pack<" but sings emotional ballads with her songs "Nobody Gets Me" and "Special." She also interpolated 'Dreamgirl' by Kendrick Lamar, and works with some big names: Pharrell, Benny Blanco, and Jeff Bhasker. Some high points in the album include songs like "Kill Bill" and the stunning Phoebe Bridgers feature, "Ghost in the Machine." Blunt lyrics like "I wanted to be thick, now I wanna be thin" from "Special" and "I might kill my ex" from "Kill Bill" make this album more relatable. Overall, this album is something I would recommend listening to. While there are some songs that feel like deluxe tracks, none of them are bad. This is not a boring album, and because of its diversity, it is almost guaranteed that everyone will find a song they like. SOS is worth the listen, even for the non-R&B listeners.
Leave a Comment
About the Contributor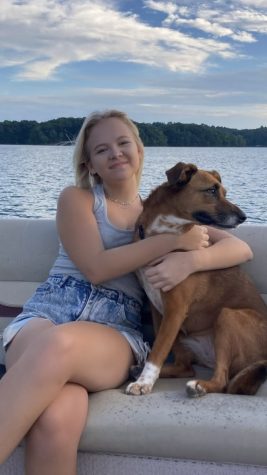 Julia Miller, Staff Writer
Julia Miller is a junior at West Morris Central and this is her first year writing for The Paw. She finds interest in anything music-related, but she is...