Lebron James Adds His Name to the History Books
Lebron James continues to make his case for being the best playing in NBA history. With a contested fade-away jumper, not a signature dunk or an ode to one of the greats, he broke the league all-time points record this Tuesday when the Lakers played the Thunder. James now has 38,390 points following Tuesday's game. 
The record had previously been held by Laker legend Kareem Abdul-Jabbar. Abdul-Jabbar had 38,387 points in his career and had held the record since 1984, nine months before James was even born, until last night. The record was held by Wilt Chamberlain and his 31,419 points until Abdul-Jabbar surpassed him.
Coming into the game Jmaes needed 36 points in order to break the record. Having recorded multiple 30+ point games, many knew that this would be the game when he would earn even more stake in NBA history. Before the game, former Heat teammate Dwayne Wade tweeted "History loading"and Cleveland Cavalier Donovan Mitchell shared via Twitter "This gotta be the night Bron gets it!" James would go on to put up 38 points on the night, along with seven rebounds, three steals and three assists.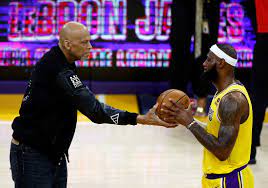 When the 14-foot jumper fell, the game came to a stop to celebrate what James had just accomplished. He said "Everything just stopped. It gave me an opportunity to embrace it and look around and seeing my family, the fans, my friends. It was pretty cool. I probably can count on my hands how many times I have cried in 20 years, either in happiness or in defeat. So that moment was one of them when I kind of teared up a little bit. It was 'I can't believe what's going on' tears." Fans rained down MVP chants while his career highlights were showcased on the videoboard. James celebrated with his mother, his wife and his three kids and then participated in a brief ceremony. NBA Commissioner Adam Silver said during the ceremony "A record that has stood for nearly 40 years, many people thought it would never be broken. LeBron, you are the NBA's all-time scoring leader. Congratulations."  Abdul-Jabbar handed him the game-ball, a passing of the torch of the record.
James adds just another thing to his resume and to the GOAT argument. He shared with ESPN: "For me, I think it's great barbershop talk. It's going to happen forever and ever. If I was the GM or whatever the case may be of a franchise I was starting up and I had the No. 1 pick, I would take me." He continued, "But that's just me because I believe in myself, what I bring to the table, a guy that's been able to transform his game over the course of 20 years, be able to play any position in this league, excel at any position. I can play 1 through 5. I've led the league in assists. I've been able to do whatever it is this game has wanted me to do and also transform my game as well."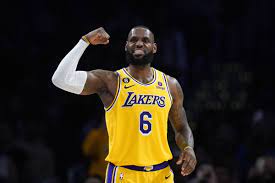 Following the game Lebron shared that "For me, personally, it's just an honor to be named with the greats…Being in the conversation with the greats that played this game before me, some of the greats that are playing right now, and then there's going to be some greats that play when I'm done playing the game. It's always a surreal feeling."
People across the league offered their congratulations and praises to James following his record setting night. Lakers teammate Anthony Davis said "He put a lot of blood, sweat and tears into this game, so I'm just honored to witness it live," Steph Curry tweeted "Congrats @KingJames… legendary stuff right here." An upcoming star in the league Ja Morant sent his congratulations saying "Greatest of All Time 👑". Lebron's former teammate James Harden said on Twitter "One of One! Congrats bro." Even people outside of the NBA and sports for that matter sent their congratulations to James as well. Justin Timberlake tweeted "On a step back too! 🐐!!!" Seattle Mariner JP Crawford said "HISTORY. Congrats King"
Leave a Comment
About the Contributor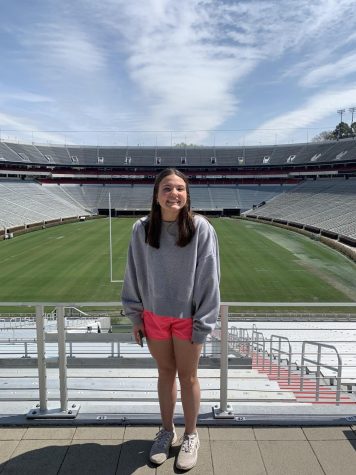 Lizzie Rubright, Sports Editor
Lizzie is a senior and in her third and final year writing for The Paw. Lizzie loves all things sports: watching them, playing them and especially writing...