Central-Con: A Living Time Capsule
This year, West Morris Central's senior academic English classes were given the opportunity to read Ready Player One, and acquire further insight as to how technological advancements have impacted our society today. Upon the completion of this novel, the students hosted Central-Con which was an event based on the novel as a way to share their discoveries outside of the classroom with other students and faculty at WMC. 
The event took place as an in-school field trip in the auditorium on the morning of February 15, 2023. Faculty members and school administrators were encouraged to attend and even bring their classes if they felt that the event would be beneficial to their practice.
Written by author Ernest Cline in 2011, Ready Player One is science fiction novel, set in a dystopia in the year 2045. The story follows protagonist Wade Watts on his search for an Easter egg in a worldwide virtual reality game, the discovery of which would lead him to inherit the game creator's fortune. 
Central-Con commenced at eight o'clock in the morning with a gallery walk. For thirty-five minutes, attendees were able to observe the students' work from their Ready Player One unit, which was displayed on tables all around the auditorium.
Shortly thereafter, at 8:40 am, the students held a "Pop Culture Panel." Seated along the front of the auditorium's stage, students were asked a series of questions regarding the lasting impacts of pop culture from the 1980s, and how we are seeing its staying power or lack thereof today. English teacher and Central-Con coordinator, Ms. Johnson, guided the students through discussion with a series of thought-provoking questions. Additionally, teacher Mr. Jacobsen and English and History supervisor Mr. Geddes joined the panel to offer some of their perspectives, having grown up in the 1980s.
From 9:20-9:45 am, freelance writer and musician, Adam Boffa, joined the Central-Con experience as a guest speaker. He provided students and faculty with enlightening perspectives on environmentalism in the media. Another panel-style discussion was then held from 9:50-10:20 am, this one focusing on technology and the coming of age. The first annual Central-Con concluded with one final gallery walk around the auditorium and the opportunity for all attendees and students to play popular video games from the 1980s. 
WMC's senior academic English classes were certainly successful in hosting a wonderful first Central-Con! Although they will be graduating at the end of this school year, they hope to see this educational event return in years to come. 
Leave a Comment
About the Contributor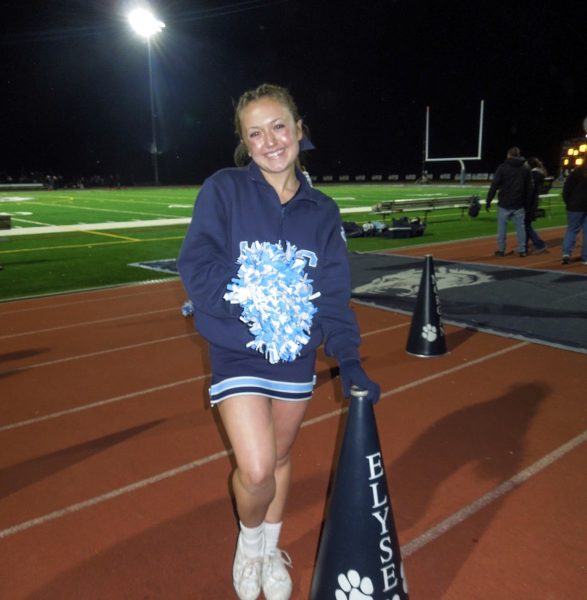 Elyse Cuccaro, Editor-in-Chief
Elyse Cuccaro is a junior at West Morris Central. She is beyond excited to continue writing for The Paw this school year as the Editor-in-Chief. Elyse...