Tennessee Federal Judge Blocks Drag Show Legislation
As the LGBTQ community has become increasingly visible in the United States in recent years, opposition has strengthened along with it. States across the country are proposing or considering policies that place tighter restrictions on the community on various fronts, with many conservative activists focusing on the transgender community and drag performances in particular, citing concerns around the sexualization and grooming of children.
Tennessee is evidently leading the charge against such performances. Last month, Governor Bill Lee (R) signed a bill into law that criminalizes certain drag performances and was met with mixed reactions, ranging from outrage to staunch approval. The first-of-its-kind legislation is set to ban "adult cabaret entertainment" on public property or in locations where minors are able to see it. This term encompasses "topless dancers, go-go dancers, exotic dancers, strippers, male or female impersonators, or similar entertainers." 
The law was set to take effect on April 1, but it was temporarily blocked by Tennessee federal judge Thomas Parker just hours before, writing "If Tennessee wishes to exercise its police power in restricting speech it considers obscene, it must do so within the constraints and framework of the United States Constitution" (via NBC). Parker also criticized the law for its broadness and ambiguity around the locations where a minor might be able to witness such a performance: "Does a citizen's private residence count? How about a camping ground at a national park? Ultimately, the statute's broad language clashes with the First Amendment's tight restraints."
The law marks this year's second major proposal by state lawmakers targeting the LGBTQ community. Earlier this year, Governor Lee signed into law a total ban on gender-affirming healthcare for minors, set to take effect in July. The law bans puberty blockers and hormone replacement therapy, as well as surgeries, which were already rare in the state. Minors who are currently receiving treatment will have until March 31, 2024 to cycle off of their prescriptions.
The American Civil Liberties Union (ACLU) has repeatedly expressed concern over the laws, calling the restrictions on drag performances "a malicious attempt to remove LGBTQ people from public life." The ACLU announced last month that they planned to take legal action regarding the laws.
Leave a Comment
About the Contributor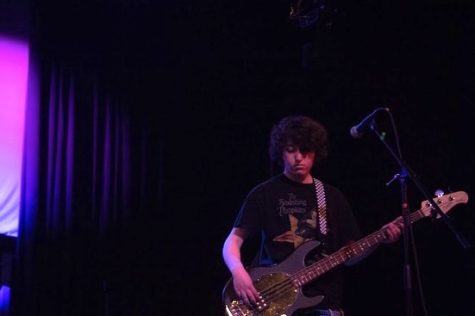 Nico DiBari, Entertainment Editor
Nico is a senior currently enrolled in Journalism II. In addition to visual art, writing, and literature, he is passionate about contemporary music and...