Monthly Music Recap – April 2023
April marked yet another exciting month for music, particularly for indie fans as folk-tinged acts like Daughter and Fenne Lily released full-length albums, and psychedelic pop fans were treated to a collaboration between Tame Impala and Thundercat. We hope you enjoy reading about the many strong releases (and some weaker ones) from this month.
Albums
Wednesday – Rat Saw God
North Carolina indie rockers Wednesday released their third album proper this month to critical acclaim, winning over tastemakers like Pitchfork and Rolling Stone. This critical acclaim is entirely warranted; Rat Saw God blends genres seamlessly, making a sound that is not simply a pastiche of their various influences but one that is new and wholly their own. The album is equal parts noisy shoegaze a la My Bloody Valentine and downhome alt-country. It opens with the abrasive blown-out guitars of "Hot Rotten Grass Smell" and continues in that direction through the next track. The best track on the album, the eight-minute emotional journey "Bull Believer" bombards the listener with screaming guitars and shrieking vocals from Karly Hartzman between quieter, more melancholic sections, making it all the more impactful when the song reaches its apex: "Finish him!" Hartzman repeats, gradually raising her voice to a powerful scream. The album is consistently excellent throughout its tracklist; though there are definitely stronger standout tracks, not a single second of Rat Saw God is wasted on anything mediocre. Besides "Bull Believer," other highlights include the heavy fuzz of "Bath County," the Americana-tinged "Quarry," and the noise rock explosion of "Turkey Vultures." Rat Saw God is nothing short of a shining achievement for Wednesday, taking them from being an act to watch to one of the best among their contemporaries. Recommended for fans of Big Thief and gritty coming-of-age narratives. – Reviewed by Nico
Magdalena Bay – mini mix vol. 3 
Electronic pop duo Magdalena Bay put out the third installment in their bite-sized mixtape series this month. At just over 15 minutes (the longest of the series thus far), mini mix vol. 3 is short and sweet, fitting a variety of elements and influences into its short runtime. Its sound is perfect for a party on the beach, with its aquatic motif and danceable rhythms. The mixtape opens with the mellow "Slug Song," which features a jazzy saxophone section that almost sounds ceremonial, as if to give the listener a grand welcome to the soundscapes of Magdalena Bay. It leads into "EXO," the most energetic and moody track on the tape, and then gets mellower from then on, but still remains upbeat and danceable. The dreamy, laid-back vibes of "2 Wheel Drive" and "Top Dog" are the highlights of the tape, along with the romantic "Tonguetwister." Overall, mini mix vol. 3 is everything you could ask for from this kind of project. All seven tracks are pleasant at the very least, with the highlights being particularly strong. mini mix vol. 3 is a solid effort from Magdalena Bay and a great soundtrack for a summer spent by the shore. – Reviewed by Nico
Metallica – 72 Seasons
The legendary Metallica is back with their first album in seven years.  72 Seasons runs for a lengthy 77 minutes across 12 tracks, including their longest song yet: the 11-minute behemoth "Inamorata." As such, one particular criticism has been echoed by both fans and critics: the album is simply too long. While the band's instrumental work is as technically impressive as ever, the riffs and melodies quickly become repetitive. The clean production also doesn't serve a band as abrasive and heavy as Metallica well, reducing the punch that the guitars would otherwise have. The distorted but melodic riffs in "Screaming Suicide," for example, seem consistent with the elements of a classic Metallica banger, but they ultimately ring hollow. The album peaks at the beginning with the title track and opener, but from there, it gets increasingly repetitive and overstays its welcome. Nothing on 72 Seasons is truly terrible by any means, but it is a disappointment coming from the band behind seminal thrash metal classics like Ride the Lightning and Master of Puppets. Where their best work is outrageous and challenging, 72 Seasons just doesn't have enough to say. – Reviewed by Nico
Matt OX & SURF GANG – OXygen
American rapper Matt OX and rap collective SURF GANG have released their collaborative album titled OXygen. The two released a single leading up to the album a couple weeks before its release, titled "Fast," which was a solid track. Matt OX is well known for his appearance on the late XXXTENTACION's album ?, featuring on the track "$$$" back when he was only thirteen years old. He has been in the scene for a while, but is still considered more underground. This album is a short near-17 minutes, and contains 8 tracks, almost making it an EP. From this being my first, fully attentive listen to a Matt OX and or SURF GANG album, it's definitely pretty solid, and has its great moments. My easy first choice is "WTW," featuring Pasto Flacco. This song has great energy and flows smoothly, as Pasto Flacco takes over a majority of the song with his energy that I was introduced to on this track. His hook is perfect, from his voice to the lyrics, and after OX's verse plays through the middle of the song, Pasto matches his energy perfectly to connect Matt's verse into his. Another solid track is "Duff," featuring RealYungPhil, containing a decent hook and solid verses. The songs with features seem to be the ones that shine to most on here, other than "Fast" and "428." Otherwise, the tracks are a little bland or just alright. The production is very enjoyable on nearly all the tracks, though Matt's style is hard to get to work on some of them, with his higher-pitched voice and occasional overblown autotune. It seems to work half the time. Overall, this album was a pretty decent first listen, and I'm by no means disappointed. I'm not crazy about it, but it's definitely decent, and worth checking out. – Reviewed by Nicolas
iann dior – leave me where you found me
Puerto Rican-born American pop, rap, and rock artist iann dior has released his album leave me where you found me, and unfortunately, it's not all that great. Iann's career truly began with his 2019 album nothings ever good enough. Since then, he has released many great or popular songs, most notably "Mood," his number one hit with 24kGoldn. With his new album, it seems here that he's experimenting a fair bit, taking influence from the underground rap scene like on "do or die," and taking a slower and even more melodic approach on "memory lane." Though I can respect the experimentation, it still feels like he's not making much progress in his talent, leaving me wanting a lot more. Iann has had pretty solid rock songs in the past as well, but on this album, it simply doesn't hit the same. Overall, I feel that iann's earlier work is significantly better. It encapsulated a moment in rap culture where melodic/emo rap started to become the norm, and iann was one of the greats at the art. Though now, it feels like he hasn't progressed since then all that much. It's not that iann can't make good music anymore, with songs like "complicate it" and "V12" on his 2022 album, but right now, his music is just not hitting. – Reviewed by Nicolas
Singles/EPs
Dorian Electra – "Freak Mode"
Hyperpop/electropop artist Dorian Electra started in a new direction this month with "Freak Mode." Electra has generally been known for their connections to electronic dance music, but their new single sees them taking cues from industrial rock and nu metal. While Electra's experimentation is admirable, "Freak Mode" lacks the character of their most popular tracks such as the industrial-influenced "M'Lady" and the electropop bop "Man To Man." Electra clearly knows how to incorporate such influences into their own sound, but unfortunately "Freak Mode" falls flat. The hook gets irritating quickly: "Normies in the dungeon going freak mode" is the kind of weird, outrageous line that a vocalist should put their whole back into, but Electra doesn't seem to unleash the "freak" they're known and loved for where it's needed most. Electra is at their best when they're over-the-top and fully embracing their weirdness; "Freak Mode" seems to want to do just that, but it doesn't go all the way, and for that reason, it's disappointing coming from such a unique and passionate artist. – Reviewed by Nico
King Krule – "Seaforth"
British genre bender Archy Marshall, known professionally as King Krule, released the first single for his upcoming album Space Heavy this month. "Seaforth" was met with praise from the online music scene, with users on Album of the Year and RateYourMusic rating the track highly on average. The track has a distinctly aquatic, beachy vibe, with the sounds of waves crashing on the shore and seagulls calling. Its atmosphere is decidedly less moody and grimy than the one Marshall is known and loved for, but this is a welcome change that works well. The guitars are jangly with a healthy dose of reverb, reminiscent of Dean Blunt's BLACK METAL. Marshall's vocals are stronger than ever on "Seaforth;" they're softer, more subdued, and he sounds especially comfortable in this particular range. Space Heavy will be released on June 9, and fans (including myself) are excitedly looking forward to it. – Reviewed by Nico
redveil – playing w/ fire
19 year old rapper redveil has released a new EP titled playing w/ fire, his first significant release since his greatly received album learn 2 swim. His rapping is on the melodic side, often consisting of pianos, samples, and polished production, filling your ears with heavy kicks and bass. I could relate his sound to an interesting combination of $NOT, Polo G, and Mac Miller's later work. This project starts out with "stuck," a well orchestrated intro, including redveil's rapping, along with a motivational quote towards the end saying "just wanna say I'm so proud of you man, they don't know that playing with redveil is playing with fire," serving as your typical introduction to a rap project. This EP consists of two different vibes, with the 'feel good' atmosphere, and the more intense and hard rap. The track "black enuff" with JPEGMAFIA is the most notable of the harder rap, being a decent track with solid verses and a hook that fits. My favorite track of the EP, and of the 'feel good' portion would be "pwf," which has a repeating synth lead throughout the song, with loud bass, hi-hats, and claps. Overall, for this being my first listen to redveil, it was fairly enjoyable. From consistently clean production to respectable lyricism and present creativity, playing w/ fire helps me understand the hype that this artist has. – Reviewed by Nicolas
The Kid LAROI – "WHERE DOES YOUR SPIRIT GO?"
With the album hopefully coming extremely soon, LAROI has released yet another single to the album, titled "WHERE DOES YOUR SPIRIT GO?" This track is a heartfelt one, serving as a tribute to the people he's lost in his life. It's a 3 minute and 21 second ballad, with LAROI pushing his voice to limits we haven't heard before. He pours out his emotions throughout this entire song, as his vocals echo over solemn piano chords. This isn't a song that will fit or relate to everyone, but it's a track that was definitely worth putting out, and it has my respect. It well encapsulates the feelings that LAROI's trying to convey. – Reviewed by Nicolas
Thundercat & Tame Impala – "No More Lies"
Psychedelic legends in their respective fields Thundercat and Tame Impala teamed up for "No More Lies," merging the funk and soul elements of Thundercat with the indie neo-psych of Tame Impala. The track is groove-heavy and has a sunny, summery feel to it, with a driving, danceable drum beat. Thundercat's masterful electric bass skills and Tame Impala's tight drumming create a technically sound foundation for the track, built upon with swirling synthesizers and smooth vocals from both artists. Thundercat's vocals particularly shine on "No More Lies," exhibiting his impressive range. The track closes out with spoken word from Thundercat, who is as witty and candid as ever: "My emotions have been sanded off," he confesses before laughing and saying, "I live in L.A., sweetie, what did you expect?" "No More Lies" is everything fans of both artists could ask of a collaboration between the two; I don't know about everyone else, but I'm hoping they come back with more. – Reviewed by Nico
Beach House – Become
The prolific and legendary Beach House gave fans more from their Once Twice Melody sessions this month with a new EP, released on April 22 as a Record Store Day clear vinyl exclusive (I was tragically unable to snag a copy) and available on streaming services on April 28. In a press release, the duo said of the five previously unreleased tracks that they "didn't think they fit in the world of [Once Twice Melody], but later realized they all fit in a little world of their own. To us, they are all kind of scuzzy and spacious, and live in the spirit realm. It's not really where we are currently going, but it's definitely somewhere we have been." Scuzzy and spacious are absolutely the correct adjectives to describe the EP. The opener "American Daughter" is a classic atmospheric Beach House track, with gradually building fuzz as the song progresses. Meanwhile, "Holiday House" is more consistent with the neo-Beach House soundscapes of Once Twice Melody, with a soft, entrancing snare drum beat and  subdued vocals from lead vocalist and multi-instrumentalist Victoria Legrand. "Devils Pool" and "Black Magic" are more reminiscent of the duo's early days in their atmosphere, particularly in the era of Devotion (2008) and Teen Dream (2010), with the kinds of dreamy guitars and sparkling synths heard on Beach House classics like "Silver Soul." The closer and title track is undoubtedly the highlight; it opens with a thrumming bassline backed by quieter twinkling synths and an understated but effective string section, and then builds to a hauntingly beautiful apex backed by spacey, fuzzy synths. Short and sweet, Become is a welcome release from Beach House and more evidence of their consistent quality and freshness all these years since their debut in 2006. Become will be released once more on standard black vinyl and CD on May 19. – Reviewed by Nico
glaive – "as if"
After a long wait, the rollout to glaive's debut album is finally beginning with his new single "as if." Along with this song, and other recent releases, glaive has started to create pop music, opposed to the genre he came from, hyperpop, and simply put, it's some of the most polished and greatest music he's put out so far. This song in particular, is probably his most well made song released. The song begins and ends with audio clips from Timothée Chalamet, which adds a great taste, and is definitely a pleasant surprise. The hook on this song is so catchy yet simple, which is glaive's strong suit in a majority of his music. Also, the verses on here are definitely an improvement from past work, and fit the feel of the track very well, which gives great hope for his album. Overall, "as if" is a great pop track. From glaive's signature layered vocals in his work, to his cleanest production to date, this track is the perfect teaser for his debut album coming this year. – Reviewed by Nicolas
Leave a Comment
About the Contributors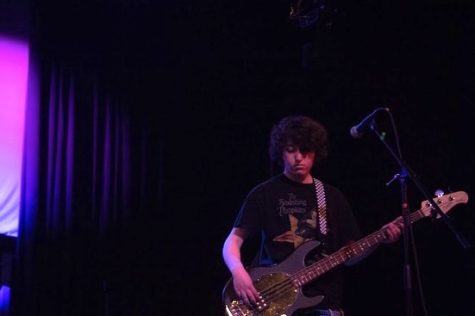 Nico DiBari, Entertainment Editor
Nico is a senior currently enrolled in Journalism II. In addition to visual art, writing, and literature, he is passionate about contemporary music and...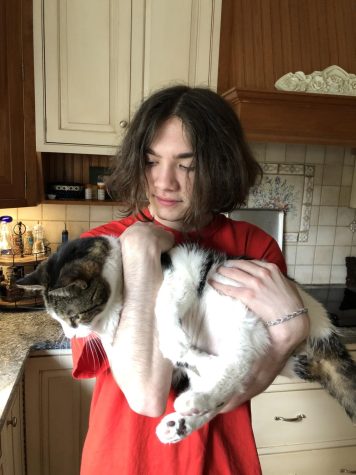 Nicolas Bandille, Staff Writer
Nick Bandille is a sophomore, covering news and information for The Paw. During his free time, he enjoys listening to music, playing video games, along...