Rock and Roll Hall of Fame's Class of 2023 Revealed
On May 3, the Rock & Roll Hall of Fame announced its Class of 2023 inductees. The categories are as follows:
Performer Category
Kate Bush
Sheryl Crow
Missy Elliott
George Michael
Willie Nelson
Rage Against the Machine
The Spinners
Musical Influence Award
DJ Kool Herc
Link Wray
Musical Excellence Award
Chaka Khan
Al Kooper
Bernie Taupin
Ahmet Ertegun Award
Don Cornelius
This year's induction ceremony will take place on November 3. The 2023 lineup is notably diverse, including artists outside the defined boundaries of rock and roll; Missy Elliott will be the first woman in hip hop to be inducted into the Hall, and creator, producer, and host of Soul Train Don Cornelius will be honored for his influence on the rise of soul, R&B, and hip hop. Experimentation was also heavily considered this year, with Kate Bush being commended for her one-of-a-kind sound and DJ Kool Herc for his innovative DJing techniques that shaped early hip hop. 
Reactions from the living nominees have been a mix of grateful, shocked, and proud for their recognition. Kate Bush told Rolling Stone that her induction is "something I just never thought would happen. Thank you so much to everyone who voted for me. It means a great deal that you would think of me. It's such a huge honour. Now, as part of the initiation ceremony, I get to find out about the secret handshake … there is one, right?" On the day she was announced to be inducted, Missy Elliott expressed her excitement in a series of tweets: "I want to say this is HUGE not just for me but for all my Sisters in HIPHOP…this door is now OPEN to showcase the hard work & what many of contribute to MUSIC. I have cried all morning because I am GRATEFUL."
However, there were also quite a few disappointing snubs in the Performer category. In addition to the inductees, this year's nominees included A Tribe Called Quest, Iron Maiden, Joy Division/New Order, Cyndi Lauper, Soundgarden, The White Stripes, and Warren Zevon. Soundgarden and A Tribe Called Quest are both now on their second nomination without induction, but hope is not lost: Rage Against the Machine was finally inducted this year after five previous nominations. Despite the disappointment for fans of the losing nominees, though, the Rock & Roll Hall of Fame Class of 2023 is wholly deserving of their recognition for their groundbreaking achievements in contemporary music.
Leave a Comment
About the Contributor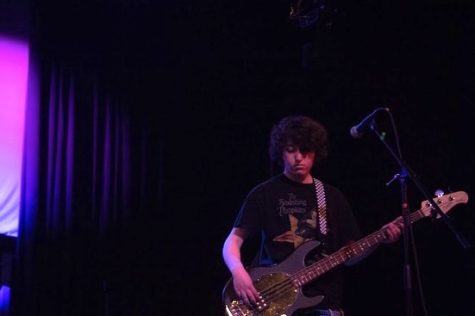 Nico DiBari, Entertainment Editor
Nico is a senior currently enrolled in Journalism II. In addition to visual art, writing, and literature, he is passionate about contemporary music and...