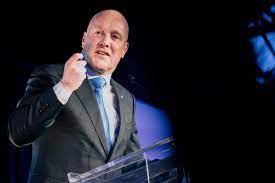 Last week,  the people of New Zealand voted out their current left-wing authoritarian party and replaced it with a conservative (limited government) right-wing party. Chris Hipkins's Labour Party has been beaten by Christopher Luxon's National Party. 
According to Wikipedia, National won 38.95% of the vote while Labour won 26.90% of the vote. As for the rest of the vote Green (left wing) came in 3rd with only 10.77% of the vote, ACT (Right Libertarian) came in 4th place with 8.98% of the vote, NZ First (Populist/Nationalist) came in 5th with 6.46% of the vote, and finally in last place is Te Pati Maori with 2.61% of the vote. 
In order for the National Party to get their agenda done, they will form a coalition with different parties since the National Party did not get 50% of the seats in their Parliament.