Little Women Becomes Big!
The classic story of the March sisters has been brought to the big screen, yet again!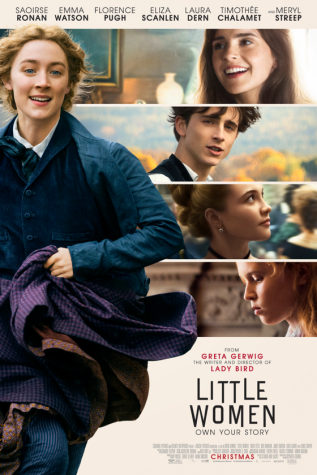 The movie follows the story of Jo March and her three sisters, Meg, Amy, and Beth. The film takes place within two time periods, 1861 and 1868. These two time periods revolve around the girls childhood and then later on their adult lives when they all separate from their home in Massachusetts. In the earlier time period, 1861, viewers learn more about the sisters relationships, their family struggles, and how they got to where they were in 1868. Meanwhile in 1868, the March family reunites after a tragedy that will have an impact on each one one of them. Within the last sequences of the movie, Jo March begins to write and publish her own book about her family, which at the end of the movie will be titled Little Women. 
The author of Little Women, Louisa May Alcott, wrote about the struggles a family endures while facing economic issues, health problems, and gender roles. In the movie, the girls face these same problems and prove that love and family can triumph above all. The powerful relationships that the sisters had despite the fights gave viewers a reminder that family is always there no matter what.  
The cast includes familiar faces and rising stars. The cast is as follows: Saoirse Ronan as Josephine "Jo" March, Emma Watson as Margaret "Meg" March, Florence Pugh as Amy March, Eliza Scanlen as Elizabeth "Beth" March, Laura Dern as Marmee March, Timothée Chalamet as Theodore "Laurie" Laurence, Meryl Streep as Aunt March, Tracy Letts as Mr. Dashwood, Bob Odenkirk as Father March, James Norton as John Brooke, Louis Garrel as Friedrich Bhaer, Chris Cooper as Mr. Laurence, Jayne Houdyshell as Hannah, Dash Barber as Fred Vaughn, Hadley Robinson as Sallie Gardiner Moffat, Abby Quinn as Annie Moffat, and Maryann Plunkett as Mrs. Kirke. 
Greta Gerwig, who is famous for not only acting but also directing some put her brilliant expertise in this new rendition of Little Women. Some of her past films that she directed include Lady Bird and Nights and Women.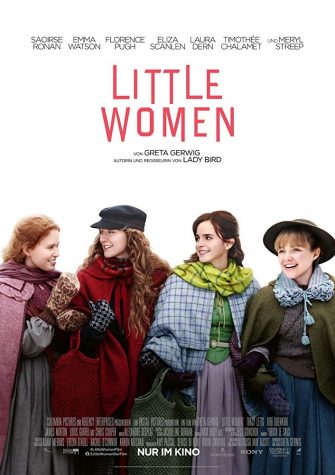 Little Women has recently  been nominated for a total of 6 categories. The nominations includeAmy Pascal for Best Picture, Saoirse Ronan for Best Actress, Florence Pugh for Best Supporting Actress, Alexandre Desplat for Best Original Score, Greta Gerwig for Best Adapted Screenplay, and Jacqueline Durran for Best Costume Design. 
Even though the original Little Women book by Louisa May Alcott has been adapted to film for a total of 7 times now and that is was transformed into a musical, this film by Greta Gerwig certainly left audiences to remember the March family. This adaptation of Little Women is different from any of the many other adaptations because with what is going on in the modern world today and the controversial debates on gender roles Little Women is a reminder that women too can do it all. 
Leave a Comment
About the Contributor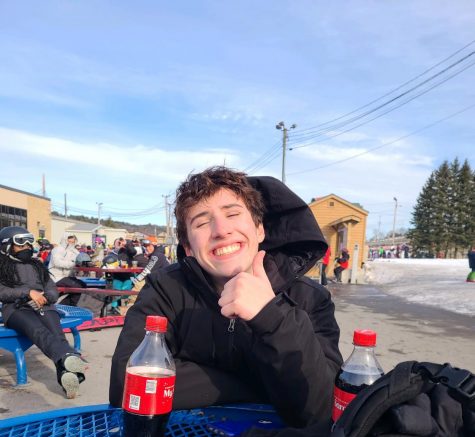 Sebastian Gutkin, Editor-in-Chief
Sebastian Gutkin is a senior here at West Morris Central High School and is currently Editor-in-Chief. This is his third and final year writing for The...